Laura Rosch, DO, CS, MPH, FACOI
Campus Dean, Joplin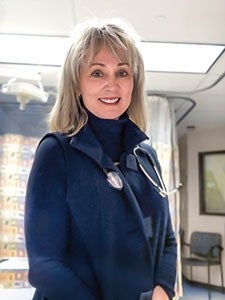 Laura Rosch, DO, CS, MPH, FACOI, was named the Joplin campus dean for Kansas City University in January 2019. As campus dean, Dr. Rosch directs daily operations of the Joplin medical school location, while helping to ensure students' well-being and academic success. As a part of the KCU leadership team, Dr. Rosch is key to maintaining a seamless integration of the two medical school campuses.
Dr. Rosch has a distinguished career as a practicing physician, medical educator, wellness advocate and community leader. Prior to joining KCU, she served as chair of the Department of Internal Medicine and Clinical Assistant Professor for the Department of Osteopathic Manipulative Medicine at Midwestern University in Downers Grove, Illinois. In addition, Dr. Rosch was a hospitalist in Winfield, Illinois, and served as a program director at both Mt. Sinai Hospital and Medical Center and Good Shepherd Hospital in Barrington, Illinois.
Pursing her passion for service and osteopathic principles, Dr. Rosch earned a Doctor of Osteopathic Medicine from Midwestern University Chicago College of Osteopathic Medicine. In addition, she holds a master's degree in nutritional science and has served as a clinical instructor at the University Of Illinois Department Of Nutritional Sciences.
Dr. Rosch brings a background of disease prevention, nutrition, exercise and stress reduction to help student doctors prioritize wellness and emotional health. She continues to be involved with the American Osteopathic Association, is the past president the Illinois Osteopathic Medical Society and a past member of the American Osteopathic Directors of Medical Education. She has presented nationally as an expert on medical issues.