Kris Nichols
University Relations Project Manager

University Relations Project Manager, Kris Nichols, is a part of the University Relations team. If you wish to contact her, please email her at knichols@kansascity.edu.
Recent Blog Posts By Kris Nichols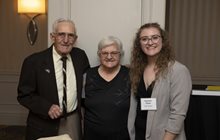 Family legacy continues at KCU
In 1952 Norbert Conrad graduated from the Kansas City College of Osteopathy and Surgery as a doctor of osteopathic medicine. Fast forward 70 years, his alma mater, now known as Kansas City University (KCU), has a very different learning environment, yet the same values remain.