From the Desk of the President
March 2019
Marc B. Hahn, DO
President and Chief Executive Officer
Read biography | Follow @KCUMBpresident
Read about KCU in the News
Greetings, KCU family:
April highlighted two important themes that continue to advance our KCU mission of "improving the well-being of the communities we serve." Research collaboration remains a top priority and is key to providing opportunities for our students to gain critical experience while seeking to improve patient outcomes. A partnership with Missouri Southern State University is doing both, as a new joint research lab is set to come on line this summer to serve our Joplin campus and the community. Learn more about the new lab and the work that will be performed there in the item that follows.
Our ongoing commitment to diversity and inclusion also remains front and center and was highlighted by an inspirational speech on racial equity from Kansas City Mayor Sly James. Students, faculty and staff on both campuses learned about Kansas City's history of racial divide, as well as Mayor James' hope for the future, joining the conversation in a spirited Q&A session that followed. Read more about Mayor James' address to KCU and his ongoing racial equity initiative in the news brief below.
KCU-Joplin, MSSU Team Up to Develop Lab Space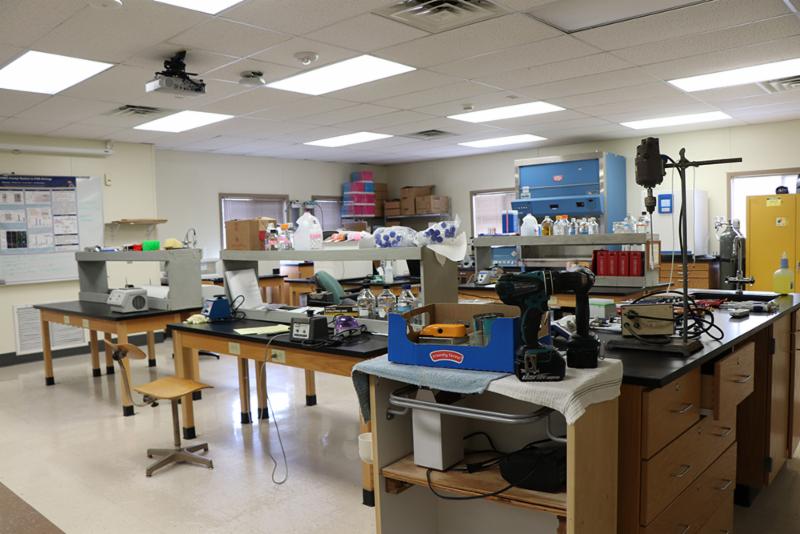 Research collaboration and interdisciplinary learning opportunities will flourish as a result of a partnership between KCU-Joplin and Missouri Southern State University (MSSU), as the two institutions work together to develop a new research lab on the campus of MSSU. Research on several projects is scheduled to begin this summer when the lab is ready to accommodate both faculty and students from both colleges. Preliminary projects are expected to examine and identify correlated health outcomes between osteopathic manipulative techniques and local populations experiencing a variety of health-related issues, including post-traumatic stress disorders. Read about the collaboration between KCU and MSSU in The Joplin Globe.
Kansas City Mayor Sly James Calls for Racial Equity and Inclusion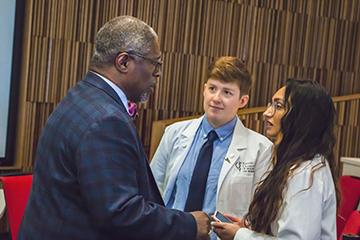 Kansas City Mayor Sly James shared a depth and breadth of knowledge on racial equity during a talk with KCU students, faculty and staff on both the Kansas City and Joplin campuses. Mayor James spoke about what it takes to build and maintain a thriving community, including having important, but sometimes difficult, conversations about race and inclusion. Mayor James emphasized the importance of using these conversations to bring communities together through understanding and acceptance. He noted that disparities in education and social determinants of health remain major obstacles in attaining equity and encouraged members of the audience to vote in every election as the most potent means for continued change and greater unification in the future. Read more.
Important Dates
Kansas City Commencement - May 11
Joplin Whitecoat Ceremony - July 20
Kansas City Whitecoat Ceremony - July 28
COB Pinning Ceremony - August 1
Homecoming - Sept. 12 -14
See additional news below. And, be sure to stay connected with your university! Follow me @KCUMBpresident to learn more about the latest KCU initiatives and updates in the osteopathic profession.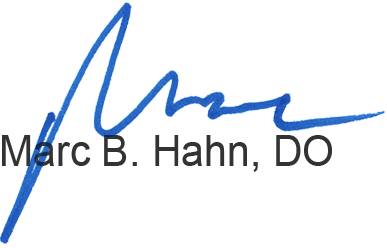 Student Doctor Kate Loos Remembered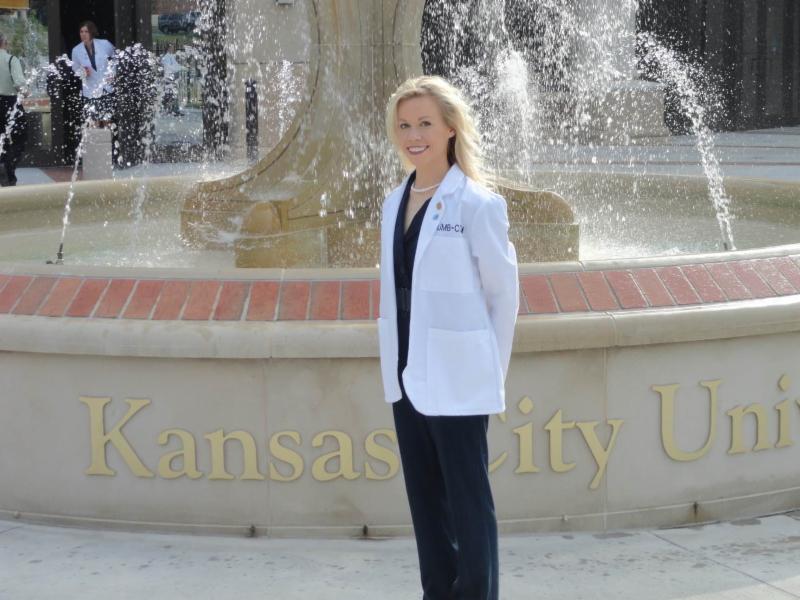 Compassion, commitment and unbridled enthusiasm for the osteopathic profession were all hallmarks of student doctor Kathryn 'Kate' Loos. She touched the lives of many, both on and off of campus, and is remembered fondly by those who knew her. Kate passed away in May 2016 and in remembrance of her, KCU dedicated a campus bench on the quadrangle to serve as a lasting memorial. The bench was crafted from wood salvaged from the cottonwood tree that stood in the quad for many decades. View our Facebook photo album.
KCU University Relations Wins AACOM Communications Awards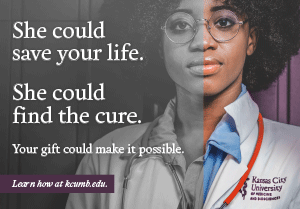 Congratulations to the University Relations team on winning two awards in the American Association of Colleges of Osteopathic Medicine (AACOM) Excellence in Communications (EIC) Awards Program. AACOM'S EIC is designed to recognize the important role communications plays in advancing osteopathic medical education and the profession. Each year, more than 100 entries are received. Award winners are chosen by an expert panel of judges. This year, KCU placed for : Philanthropy Makes It Possible (Advertising ); and the 2018 Summer KCU Magazine.
Alum Russell Horn, DO, Named New KAOM President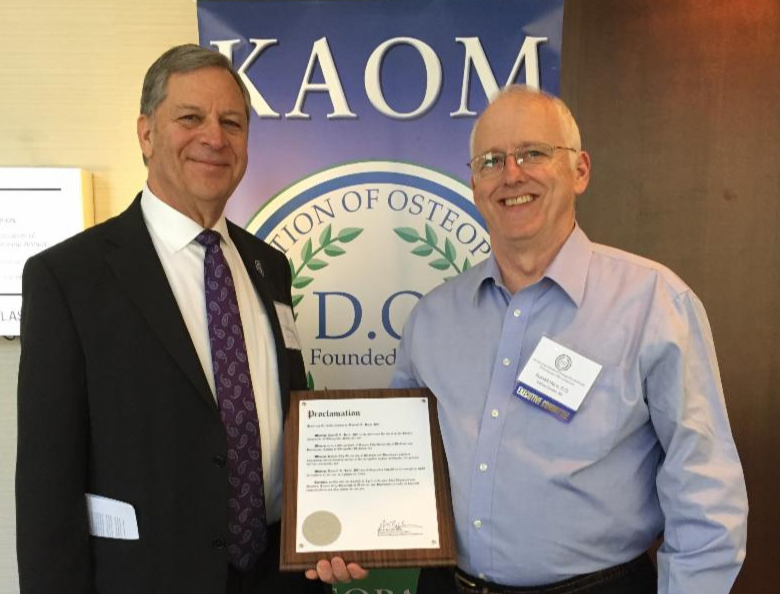 Russell Horn, DO (COM '83), was recently installed as the new president of the Kansas Association of Osteopathic Medicine (KAOM). Dr. Horn practices family medicine in Valley Center, Kansas. John P. Smith, DO (COM '75), longtime KAOM member and chair of the KCU Board of Trustees, was on hand during the association's annual meeting this month to present a proclamation to Dr. Horn in recognition of his achievement. KAOM provides an opportunity for osteopathic physicians to advocate for their profession, unite with peers and receive relevant, timely continuing education credits. Congratulations to Dr. Horn!
KCU Psychology Faculty Address Teen Depression in Local TV Interview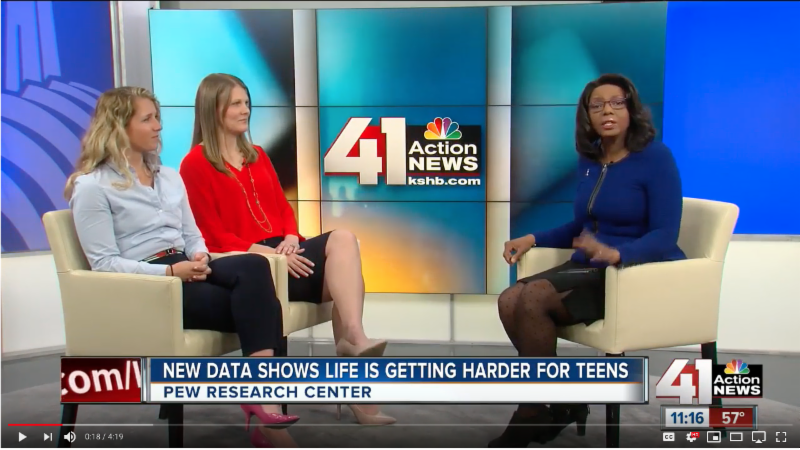 KSHB 41 Action News sat down with KCU's Dr. Sarah Getch, program director, Health Service Psychology, and Dr. Robyn Lute, director of Clinical Psychology Training, to discuss the possible causes and effects of anxiety and depression on teenagers. A recent Pew Research Center study found that these conditions are on the rise, with seven in ten teens today seeing them as major problems among their peers. KCU introduced a new doctoral program in Clinical Psychology in 2017 to help meet the growing behavioral health needs in the region.
Read Additional Stories and the Latest Updates
We have more exciting news than ever before at KCU! In addition to the important updates included in this month's e-newsletter, be sure to check out the current issue of KCU Magazine and visit KCU News for other stories, such as:

---
Kansas City University is Making an Impact in Our Community ...
For more than 100 years, KCU has been living our mission of "improving the well-being of the communities we serve."
KCU is the largest medical school in Missouri and the 9th-largest medical school in the United States.
KCU is the second-leading educator of physicians for both Missouri and Kansas, as well as in the Kansas City metropolitan area.
KCU addresses national physician workforce shortages, with 57 percent of our alumni practicing in primary care specialties.
KCU has a great impact both regionally and locally, with 31 percent of our alumni practicing in a five-state region (Missouri, Kansas, Oklahoma, Arkansas and Illinois), including 761 in the Kansas City metropolitan area alone.