From the Desk of the President
December 2019
Marc B. Hahn, DO
President and Chief Executive Officer
Dear KCU Community,
Every day in the classroom, in our communities and throughout our health professions, KCU faculty demonstrate our commitment to excellence and advancing our mission of "improving the well-being of the communities we serve." This past month, we were proud of the accomplishments of several faculty members on both our Kansas City and Joplin campuses.
We're grateful for all of our faculty contributions and congratulate these individuals on their recent successes. See the items below for additional details.
Drs. Mike Johnston and Josh Cox Assume New Roles
Michael Johnston, DO ("Dr. J"), has been promoted to the role of associate provost of Faculty and Student Success to help support KCU's continued and significant growth on both the Kansas City and Joplin campuses. A 1973 graduate of the KCU College of Osteopathic Medicine (KCU-COM), Johnston has taught for more than 40 years and been employed by the University for nearly 20 years. W. Joshua Cox, DO, was named campus dean for KCU-Kansas City, a post previously held by Johnston. Cox is a 2000 graduate of the KCU-COM. Most recently he held the position of associate dean of Clinical Education and professor of Primary Care. Read more.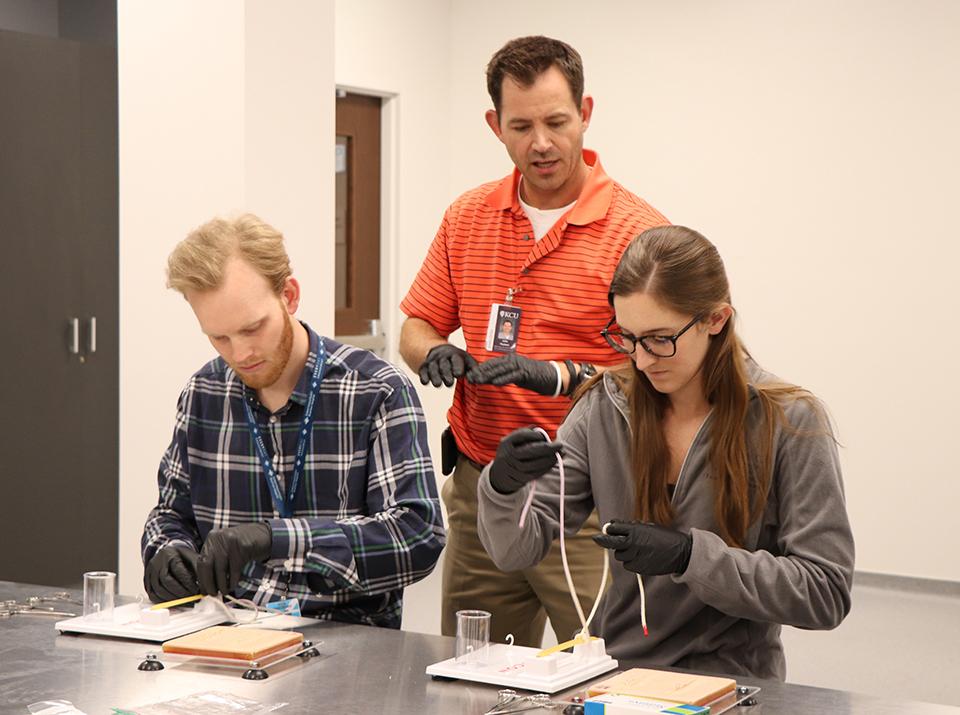 Dr. John Paulson Named AACOM Health Policy Fellow
John Paulson, DO, department chair and assistant professor of Primary Care at KCU-Joplin was recently accepted into the Osteopathic Health Policy Fellowship (OHPF) offered through the American Association of Colleges of Osteopathic Medicine (AACOM) Leadership Institute. The fellowship is a yearlong leadership training program designed to prepare emerging leaders in the osteopathic profession to engage in health policy discussions, analysis and formulation. Read more.
Drs. Schoen Kruse and Sarah Getch Grow Course on Diversity, Cultural Competency, Interprofessional Practice
Article updated Dec. 19, 2019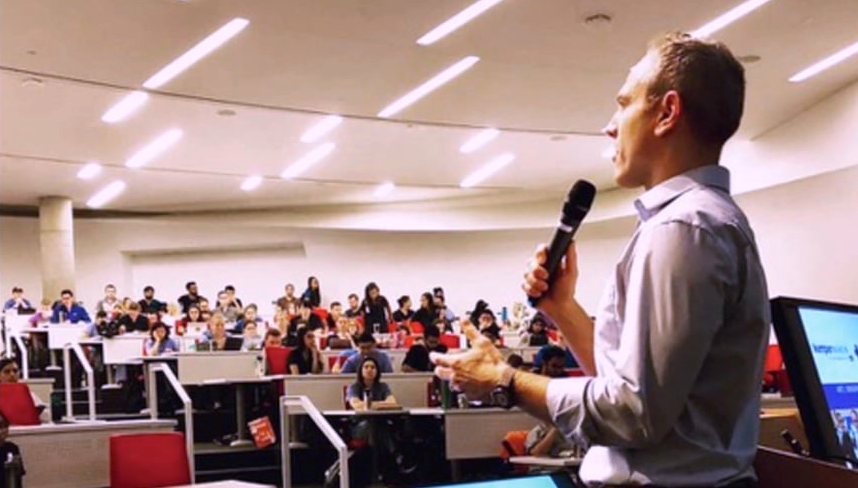 Schoen Kruse, PhD, associate dean of Curriculum and Integrated Learning and associate professor of Pharmacology; and Sarah Getch, PhD, program director, Health Services Psychology, continue to build on partnerships with art museums and other health professions programs to conduct an innovative course called Art, Observation and Medicine (AOM). Kansas City students visit the Kemper Museum of Contemporary Art, and Joplin students tour the Crystal Bridges Museum of American Art in Bentonville, Arkansas. The interactive course uses visual arts and technology in a museum setting to enhance a student's critical thinking, communications and observation skills. Originally offered to first-year medical students, enrollment also currently includes several clinical psychology students in Kansas City. Kruse and Getch plan to expand the program to include other programs, which will create greater opportunities for interprofessional learning and help advance KCU's curriculum and offerings to students. Kruse along with Monica Kinde, PhD, Phase 1 director and assistant professor of Biochemistry, authored an article on the course in the Sept./Oct. issue of Missouri Medicine. Ovation TV captured video of AOM.
Joplin Faculty Support STEM Fair
KCU-Joplin faculty were invited to join the Quapaw Nation last month for the tribe's annual STEM Fair to inform Joplin area middle school and high school students about college opportunities and STEM degree programs. STEM programs focus on curriculum and learning opportunities around science, technology, engineering and mathematics. Mariam Akhtar, MD, Robert Tyler, DO, and Barbara Miller, MD, presented to approximately 250 Joplin middle school students with hands-on learning about blood pressure and the bones in the body. Angela Pierce, PhD, presented to more than 100 high school students the next day, introducing them to the neuroscience of temperature, taste and sensation.
Important Dates
Campus Winter Break - Dec. 24 - Jan. 1
MSACOFP Annual Winter Meeting - Jan. 23 - 26
KCU Board of Trustees Meeting - Feb. 9 - 10
Annual Research Symposium - March 20
Read additional news about your university in the briefs below. Follow me @KCUMBpresident to learn more about the latest KCU initiatives and updates in the osteopathic profession.
Wishing everyone happy holidays and a restful winter break.

KCU to Host Regional Bioinformatics Conference
KCU was selected to host the 2020 Midwest Bioinformatics Conference in April. This honor recognizes KCU's growing role in the emerging field of bioinformatics. It also coincides with the spring semester introduction of KCU's first bioinformatics course developed by Douglas Bittel, PhD, associate professor. Bioinformatics leverages the power of big data within the realm of medical data management to improve medical decision-making and ultimately improve health outcomes. The conference brings together researchers from academia and industry. It also provides opportunities for bioinformatics students to learn about employment opportunities within the region, as well as for employers to meet prospective candidates. Learn more.
In Memoriam: Donna Ruth (Dunlap) Walker, PhD
Our KCU community was saddened by the recent loss of Donna Walker, PhD, longtime educator, KCU supporter and donor, and wife of KCU alum, Past Board Chair and former Interim President Marshall Walker, DO. Donna passed away in St. Mark, Kansas, near Wichita. Dr. Donna Walker taught educational technology in Wichita State University's Opportunity Program College of Health. Recognizing the Walkers' extraordinary contributions to the University, the Walker Family Welcome Center in KCU's Administration Building was named in their honor during the University's Centennial celebration in 2016. The Center is a tribute to their dedication to the pursuit of excellence in osteopathic medicine, their commitment to the continued success of KCU, and in appreciation of the generous gift that made the new building possible. We offer our deepest condolences to Dr. Marshall Walker, his family and friends. Read more.

U.S. Rep. Emanuel Cleaver II Talks Health Care With KCU
U.S. Rep. Emanuel Cleaver, II, D-Mo., joined KCU administrators and students in a roundtable discussion regarding topics impacting health care providers now and in the future. I was pleased to lead the discussion, which addressed student debt, Medicaid expansion, patient access to health care and the toxic climate in Washington, D.C. The group also touched on misconceptions surrounding culture and socioeconomic determinants of health. Read more.
KCU Represented on Kansas City Business Journal/McCown Gordon Health Care Panel

I was honored to join a panel of executives to consider health care industry trends in a consumer-driven economy and their ultimate affect on patient well-being. The Kansas City Business Journal in partnership with McCown Gordon invited the group to consider trends and the long-term impact on the ways patients receive care and the channels health care providers use to deliver that care. The possibilities discussed range from traditional hospital and clinical settings to outpatient facilities, in-home care, current telehealth platforms and other virtual care technologies. Read more.
In Memoriam: Fitzhugh Mullan, MD

The medical profession recently lost Dr. Fitzhugh Mullan, an impassioned leader who throughout a long and distinguished career was dedicated to the pursuit of equity and inclusion in health care. He served for 23 years as a professor at the Milken Institute School of Public Health at George Washington University. In 2015, Mullan co-founded the George Washington Health Workforce Institute; the institute was renamed the Fitzhugh Mullan Institute for Health Workforce Equity this past April to honor his legacy. KCU was privileged to have Mullan deliver our commencement keynote address in 2016. Learn more about the Mullan Institute and the upcoming memorial service celebrating his life. Read more about Mullan's life and career in an article in The New York Times.