Read biography | Follow @KCUMBpresident
Read about KCU in the News
---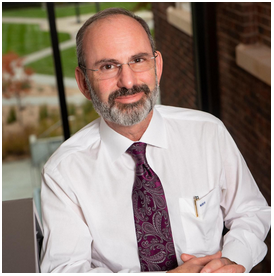 Dear KCU Community,
Today, as never before, health sciences universities face ever increasing challenges in student recruitment – from changing demographics thereby lowering the pool of applicants, to the establishment of many new programs and colleges (especially amongst colleges of osteopathic medicine) creating more competition for the best and brightest applicants. In this new landscape, I am proud to say that our admissions team, in the office of enrollment management, has been dedicated to carrying the KCU story across the country and maintaining the very best applicant pool. We have been fortunate, that despite the challenges other universities have seen, we continue to have some of the best students in all of our programs compared to our peers across the nation. I would like to express my deep appreciation and respect for our admissions team for their continued hard work, long hours, national travel and commitment to assuring excellence in all of our academic programs. Additionally, I thank each and every one of our alumni, students, staff and faculty who represent our university as 'ambassadors', sharing the story of Kansas City University, and assisting in the recruitment process.
I had the honor of meeting with Missouri Governor Mike Parson last month to provide an update on KCU's growth and our impact throughout the state and region. Acknowledging the governor's emphasis on workplace development, I was pleased to report our ranking as the number-one producer of physicians for the state, and noted our efforts to educate scientists, psychologists and bioethicists on our campuses in Kansas City and Joplin.
We also discussed the University's plans for opening a College of Dental Medicine, as well as the success of our second medical school campus in Joplin. I was pleased to share news of the upcoming opening of our Center for Medical Education Innovation and our new bioinformatics course. See photos from the meeting.
Gov. Parson had also declared April 2020 to be Missouri Osteopathic Medicine Awareness Month, recognizing the state as the birthplace of osteopathic medicine.
I am proud of the impact our KCU faculty, staff, students and alumni have throughout our region, country and world in advancing our mission of "improving the well-being of the communities we serve." Through our achievements in academics, research and service, we have some impressive stories to tell this month.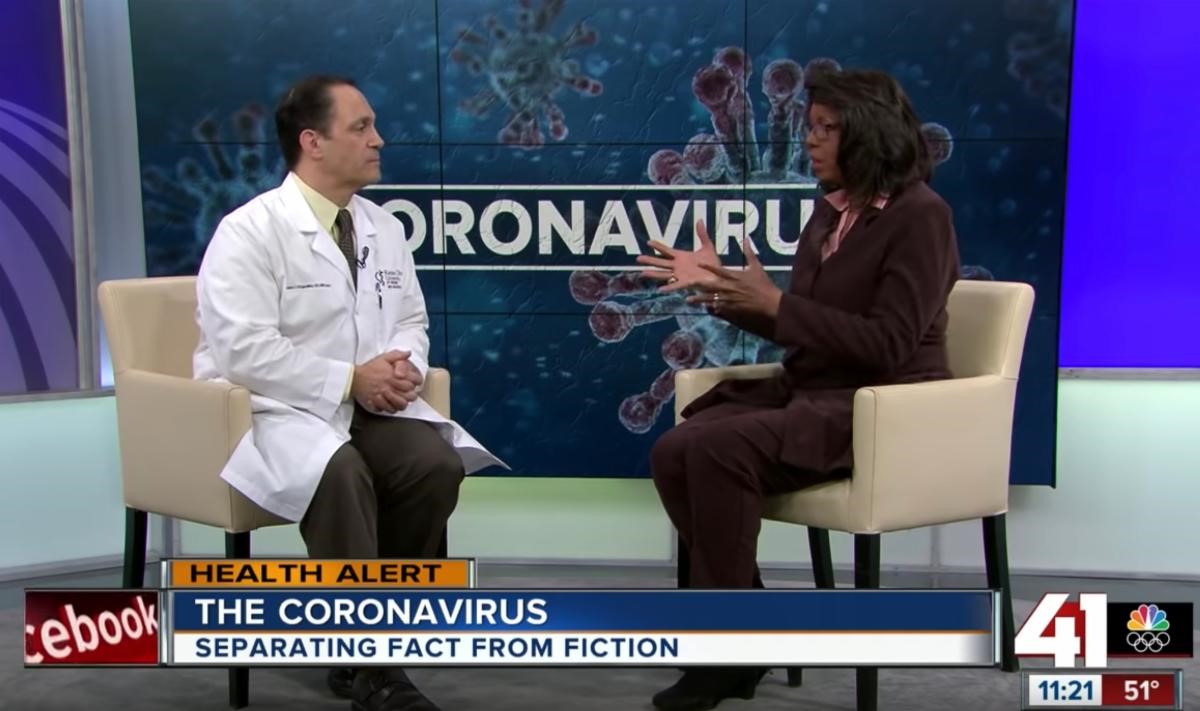 Dean D'Agostino Explains Coronavirus and Influenza Risks on Local TV
Kansas City's KSHB Channel 41 recently broadcast a story about the world health focus on the coronavirus and the more immediate risks from the flu virus. Cynthia Newsome interviewed Darrin D'Agostino, DO, executive dean of KCU's College of Osteopathic Medicine. D'Agostino observed that, as scary as the coronavirus may be, people need to be more vigilant about minimizing the very real risk of influenza in their own backyard, noting essential precautions of covering sneezes and coughs and washing our hands often. Watch the broadcast.
Joplin Student Elected to AOF Post

The American Osteopathic Foundation (AOF) recently announced the election of Comfort Orebayo, OMSII, as the student director representing the College of Osteopathic Student Government Presidents (COSGP). This is a two-year term beginning January 1, 2020. Orebayo serves as executive president of KCU's COSGP Association, and is also involved with several other professional organizations.
Read more about this prestigious appointment.
Alum Helps Prepare KCU Students for Outreach in Guatemala
KCU alumnus Jeffrey Zollinger, DO (COM '06), recently visited KCU with two members from his practice, Sweetwater Pain and Spine, in Reno, Nevada. Their mission: Help train 39 KCU student doctors heading to Guatemala. A specialist in interventional pain medicine, Zollinger recalled his own student time in Guatemala, where he actually performed his first joint injection in less than ideal situations. Now a clinical physician, he recognizes the "energy and enthusiasm for patient care" that these experiences abroad afford. In 2018, Dr. Zollinger received the Northern Nevada Humanitarian Health Care Heroes Award from Nevada Business Magazine for his ongoing support and participation in international medicine, particularly in Guatemala. Watch the video.
Important Dates
Annual Research Symposium - March 20
ACOFP Annual Convention - March 19 - 22
Read additional news about your university in the briefs below. Follow me @KCUMBpresident to learn more about the latest KCU initiatives and updates in the osteopathic profession.

Local TV Station Features Third-Grade Field Trip to KCU-Joplin
When third graders from Irving Elementary School in Joplin, Missouri, visited KCU-Joplin this month, KOAM-TV was on hand to capture the high-energy field trip — an event that reflected the growing relationship between KCU and the community. The youngsters spent time with first-year medical students, learning about the human skeleton and the importance of stretching. There is growing awareness that early exposure to careers in the sciences, including medicine, can help steer children into health-care professions. These "pipeline programs" can help spark the imagination of students who over time may gain interest in careers as doctors, dentists, nurses and other health care professions they might not otherwise have had. Watch the broadcast.
COB Biomed Student Performs Diabetes Research With Local Biotech Company
Through a partnership with area biotechnology research firm Likarda, KCU biomedical science student Amy Wysong is working alongside researchers to develop new treatments for diabetes in cats that can translate to dogs, as well. Wysong is helping to evaluate "a protocol that could 'trick' a cell that does not produce insulin into producing it." The link between animal health and human health is evident, and participation in studies of animal health may lead to innovations in human health care. KCU faculty members network with laboratories like Likarda in the Kansas City Animal Health Corridor to identify a growing number of opportunities for student research. According to the organization, companies with a strategic location in the KC Animal Health Corridor now represent more than half of total worldwide animal health, diagnostics and pet food sales. Work in commercial labs helps prepare biosciences students to step more seamlessly into the arena of animal health research. Read more.
Faculty ALS Research Published in Print and Video
KCU's Abdulbaki Agbas, PhD, professor of Biosciences in the Department of Basic Sciences, is assessing TDP-43 in patients with ALS, known as Lou Gehrig's disease, using an innovative immunoassay analytical technique called capillary electrophoresis. His work was recently published in JoVe, the Journal of Visualized Experiments. (TDP-43 is an amino acid nuclear RNA/DNA-binding phosphoprotein.) A video with Agbas, shot on the Kansas City campus in November, also has been posted on JoVE's site. Agbas' paper demonstrates that high-throughput capillary electrophoresis immunoassay satisfies criteria for potential biomarker development. Blood-based biomarkers for neurodegenerative diseases like ALS are essential for implementing large-scale clinical studies. Read the article and watch the video.
Students Get to Know Northeast Neighborhood Through Scavenger Hunt
Commitment to community and fostering positive relationships fits hand-in-glove with KCU's mission. It is essential that our KCU community gets to know the neighborhoods where we live, work and go to school. Century Towers Apartments, the home for many Kansas City students, recently partnered with the Northeast Chamber of Commerce to host a scavenger hunt along Independence Avenue. The event promoted the area's international business community, referred to as the International Marketplace. The teams visited businesses and the area's many murals, checking off the places visited via social media along the way. Read more.

Case Study Recognizes KCU's Innovation in Educational Technology
KCU's innovative approach to educating health sciences professionals has led to a strong reputation for adopting and advancing the use of technology for educational and organizational applications. Lifesize®, a high-definition video conferencing system, has published a case study on KCU's use of their system. In particular, KCU's IT team wanted to make the communities in Joplin and Kansas City feel like one campus. A customized lecture hall was outfitted with multiple cameras and desktop microphones for students to easily ask questions. The Lifesize app was integrated with university iPads supplied to students, and KCU began broadcasting one to two lectures each week. Down the road, the technology will support the dental school and students in working in rural communities. Read the case study.
We have more exciting news than ever before at KCU! In addition to the important updates included in this month's e-newsletter, be sure to visit KCU News for other stories, such as: