From the Desk of the President
November 2018
Marc B. Hahn, DO
President and Chief Executive Officer
Greetings KCU Family,
We are continually reminded of how our alumni, faculty, staff and students are committed to advancing our Vision of "
becoming the most student-focused university in the nation
." Members of our KCU family have received a number of recognitions recently that reflect this dedication. From individual achievement to providing an outstanding work environment and facilities, KCU continues to gain attention as a growing health sciences university committed to excellence. I am pleased to share some of these acknowledgements with you as we look to the final weeks of 2018.

KCU Wins Again With Workplace Wellness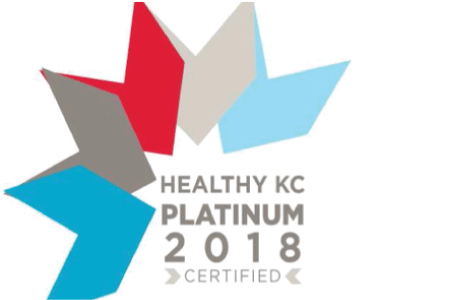 For a second consecutive year, KCU has been certified at the highest platinum level by the Greater Kansas City Chamber of Commerce as one of the healthiest workplaces in the metro area. We are proud of providing a work environment that fosters emotional and physical health for all employees, recognizing that healthy and happy employees are better equipped to meet day-to-day challenges in both their personal and professional lives. Read more about KCU's Platinum Award.
Trustee John P. Smith, DO, Recognized for Humanitarianism
KCU Board Chair John P. Smith, DO, Class of 1975, was recently recognized by the American College of Osteopathic Surgeons (ACOS) with its prestigious Humanitarian Award. The award recognizes ACOS members who unselfishly participate in humanitarian activities within their community and/or state, nationally or internationally. In 1997, Dr. Smith participated in his first short-term mission trip to the Dominican Republic. Since then, he has organized and led 26 medical missions with Medical Ministry International, resulting in over 3,000 surgical procedures performed, and care provided for 25,000 patients. Congratulations, Dr. Smith, on this much deserved accolade. Learn more.
AIA Awards Joplin Campus for Design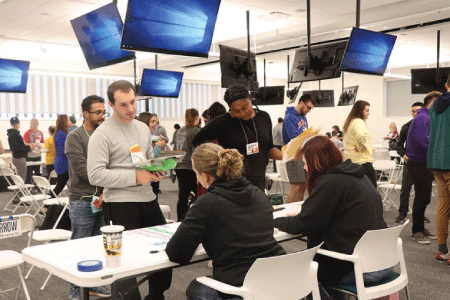 KCU-Joplin has been recognized for outstanding design by the Kansas Chapter of the American Institute of Architects (AIA). The Merit Award was presented to Joplin architect Kahler Slater, which teamed with architectural firm Gould Evans to plan, design and work with KCU's capital projects staff to deliver our beautiful campus. View Kahler Slater's project description and outstanding photography of the campus here.
Alum Ray Stowers, DO, Honored for Lifetime Achievement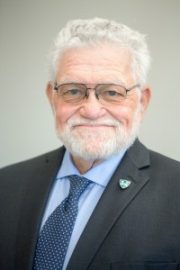 Ray Stowers, DO, Class of 1973, has been recognized with the Lifetime Achievement Award by the American Osteopathic Foundation (AOF). This highest honor celebrates excellence in the osteopathic profession. It is awarded to an individual who has made significant, fundamental contributions to the osteopathic profession and has demonstrated a lifetime of commitment to osteopathic medicine, its principals and practice. We congratulate Dr. Stowers on this noteworthy accomplishment. Read more and watch the award video.
COB Student Recognized for Alzheimer's Research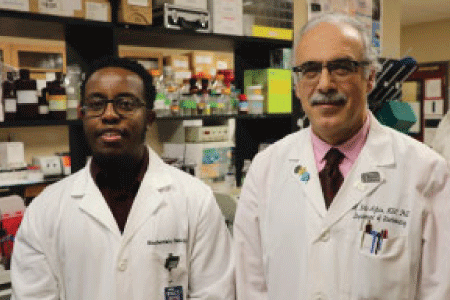 Roy Muriu, a two-year research track student in KCU's College of Biosciences, works with KCU Professor Dr. Abdulbaki Agbas to analyze how elevated levels of the protein TDP 43 in the platelets of Alzheimer's patients might one day be identified as an early biomarker for the disease. Muriu was invited to present an abstract on his research at the Annual Biomedical Research Conference for Minority Students (ABRCMS) held in Indianapolis earlier this month. The ABRCMS is the largest meeting for undergraduate minority students in the country, exposing them to graduate programs and professional opportunities in biomedical research. Read more.
Intranet Re-design Wins 'Philly' Awards
Non-Profit Connect (NPC), which links the local nonprofit community to education, resources and networking, honored our university recently with its philanthropy or "Philly" Awards. The Philly Awards celebrate outstanding achievements in nonprofit marketing and communications. KCU's Community Engagement and Information Technology teams were recognized for their work on our intranet re-design. NPC awarded our university with both the Website Gold Award and Award of Distinction at the organization's annual dinner. We are proud of our KCU staff for this outstanding recognition.
Introducing 'One University' - KCU's Campus Climate Study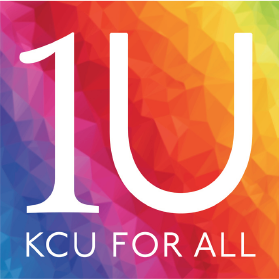 KCU has begun implementation of "One University," an independent assessment of the KCU climate to inform positive, lasting changes that will help create a more inclusive campus environment. Consultants Rankin & Associates are working with a committee of students, faculty and staff to develop the assessment. Results will help KCU both develop programs and policies that will increase inclusivity in areas of need, and enhance and replicate those that are shown to be successfully meeting the needs of our campus community. The survey is scheduled for implementation beginning in late February 2019.
Joplin COM Students Gain Understanding of Poverty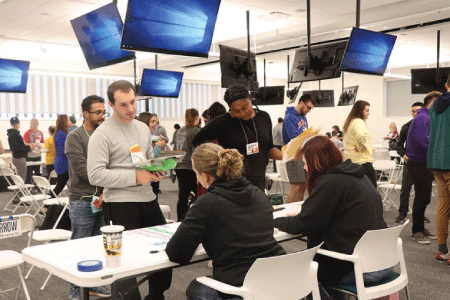 Second-year KCU-Joplin medical students, along with Missouri Southern State University (MSSU) nursing and dental hygiene students, came together in an interprofessional environment for a simulation designed to provide an understanding of the hurdles faced by those who are struggling with poverty. Developed by the Missouri Association for Community Action, the program is tailored to address how those hurdles affect patients and their access to health care. During the simulation, KCU and MSSU students were assigned to families and worked together to complete such tasks as buying groceries and paying bills, while facing real-life scenarios such as job loss or transportation issues. View local TV coverage of the event.
Double Your Giving Through Our Scholarship Matching Grant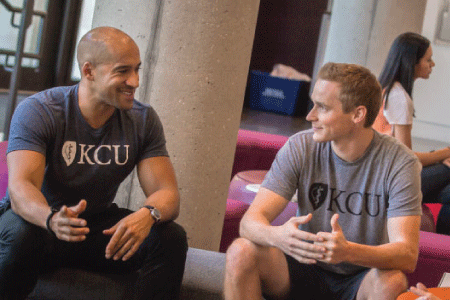 Contributions to the KCU scholarship matching grant are off to a great start with more than $52,000 donated thus far. However, we have more work in front of us before fully funding a $2 million student scholarship endowment for merit, diversity and need-based awards. Initiated by alumnus Bradley Vince, DO, Class of 1998; Kansas City businessman Brad Bergman; and the Jack and Glenna Wylie Charitable Foundation, the KCU scholarship matching grant maximizes the power of philanthropy by creating a $1 million fund that will match, dollar-for-dollar, every scholarship-designated contribution to KCU. The program concludes in September 2019. To learn more and make a donation, visit our website.
Op-Ed Promotes Love Over Hate
I was pleased to have the Kansas City Star publish an opinion editorial that I submitted earlier this month denouncing the words and acts of hatred that are dividing our country. Following a number of recent tragic events, I was impassioned to call upon all leaders, local and national, to stand together to help message the importance of inclusivity, civility and peaceful rhetoric. Read the November 3 editorial here.