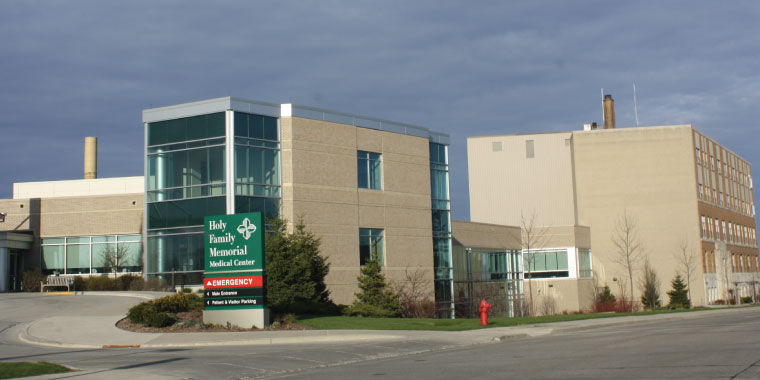 ---
Core Site assignments are for year three only. Clerkship placement during year four is based solely on the site's availability and approval. Students must follow the scheduling protocols outlined by the location and the Clinical Education Guidelines.
Froedtert Holy Family Memorial Hospital, part of an affiliation with the Froedtert and the Medical College of Wisconsin health network is recognized as the leader and largest provider of health care services in Manitowoc County. Founded by the Franciscan Sisters of Christian Charity, Froedtert Holy Family Memorial Hospital, rooted in the healing ministry of Jesus Christ, is committed to providing high-quality medical care and dedicated to helping individuals in the communities.
Our network services include an inpatient and outpatient medical center, walk-in care, clinics, retail pharmacies, a medically-based wellness center and a state-of-the-art rehab facility.
Our regional orthopedic specialty clinic is nationally known with service in Manitowoc and Sheboygan.
Our providers have been recognized by the Joint Commission for excellent surgical outcomes.
Our Cancer Center is part of the Froedtert Health Collaborative.
Our Heart and Vascular Center is the only facility in Manitowoc County with full-time local cardiologists and a cardiac catheterization lab.
Our center has been recognized as both a gold and platinum star performer from the American Heart Association and American College of Cardiologists, with outstanding door to balloon times well below the national average.
Women's services are also available through our clinics, including HFM Women's Health and our Women's Imaging Center.
2300 Western Ave
Manitowoc, WI 54220
Site Focus
Orthopedic Specialty Care
Interventional Cardiology
School Affiliation
Chicago College of Osteopathic Medicine/Midwestern University
KCU College of Osteopathic Medicine
Medical College of Wisconsin
Hospital Statistics
Total Beds - 67
Discharges - 1,806
ER Visits - 10,022
Births - 46
Inpatient Surgeries - 387
Outpatient Surgeries - 2,110
DOs on Staff - 11
MDs on Staff - 64
Third-Year Clerkships
Behavioral Health (1 month) - Outpatient
Child and Adolescent Health (1 month) - Outpatient
Family Medicine (1 month) - Outpatient
Internal Medicine (2 months) - Inpatient/Outpatient
Surgery (2 months) - Inpatient/Outpatient
Women's Health (1 month) - Inpatient/Outpatient
This site schedules clinical experiences in one month increments.
Third-Year Selectives
These are clinical experiences completed in addition to the third-year core clerkships. The student may have some ability to choose from a list of available selective clerkships. The Core Site determines the selective clerkships available based on the resources at the Core Site. If applicable, selective opportunities will be communicated to students at the core site's discretion after the match.

Selective clerkship opportunities are not available away from the Core Site during the third year. Exceptions to this policy may occur for students officially enrolled in the Military and Global Health Tracks or completing third-year selective(s) away from the Core Site as part of the Specialty Track requirements.
Residency Information
Resources & Benefits
Facility Resources: Students have access to a classroom, computers, printer, online medical library, study area/lounge, Wi-fi/internet while on duty at the hospital and most clinics
Meal Benefits: Unavailable at this time
Visiting Student Housing: May be available, not guaranteed
Duties & Opportunities
Student Duties: Students are required to participate in weekend call and two weekend rounds per month and as assigned by the preceptor
Didactic Opportunities: Students required to participate in daily patient rounds and assigned reading as well as monthly lectures; students also invited to various CME opportunities in Wisconsin and Illinois throughout the academic year at no additional expense
OMT/OPP Opportunities: Students required to participate in monthly skills development
Unique Site Characteristics
Background check required
BLS certification must be current
Flu and COVID vaccines are mandatory
GME requirement in year three required off-site/out-of-town
Global Track and Military Track students must communicate third-year clerkship obligations to site as soon as the Clerkship Match Process is finalized
Orientation provided on the first day of the clerkship
Proof of current immunizations required
TB screening required annually (only two-step skin test or blood test accepted)
TB Mask Fit required

Travel required to meet third-year residency clerkship requirement

Wisconsin Caregiver Background Check required, at cost to student
Once the Clerkship Site Match is finalized for your class, KCU Clinical Education will notify students when contacting clerkship sites directly is permitted.
Contact Information
Contact Clinical Education
Core Site Contact: Deb Gillen
Director of Medical Education: William D Hampton, DO
Additions or changes to this site's information may occur at any time - information last updated 10.7.2022