Class of 2021 Commencement Central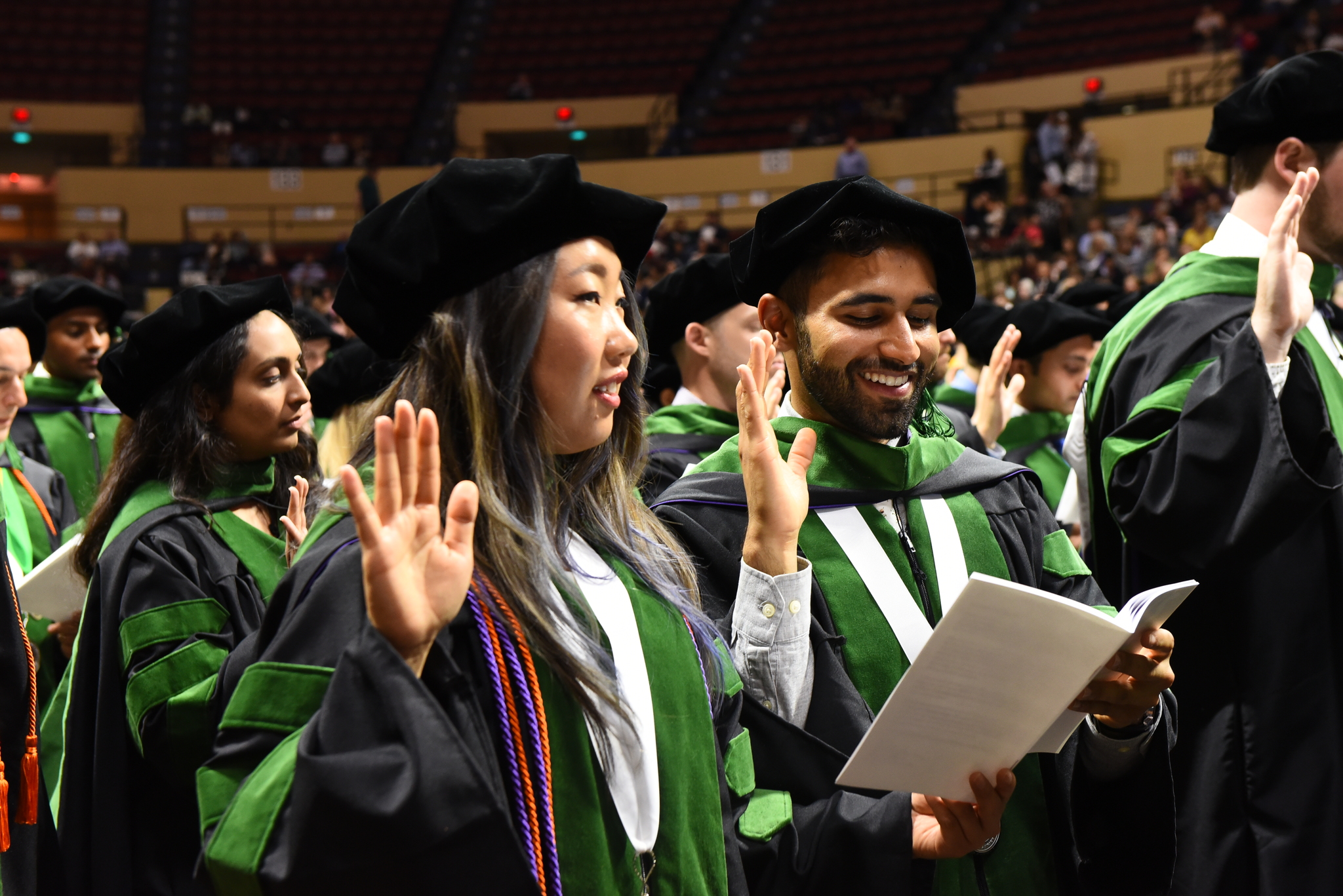 We are pleased to announce KCU has made the decision to plan for in-person Commencement Ceremonies this year as follows:
Kansas City – May 8 at the Municipal Auditorium
Joplin – May 9 at the Legget and Platt Athletic Center
While we are very hopeful that nothing will interrupt this plan, we must still remain vigilant for any changes in the public health situation in our communities and we will continue to monitor safety guidelines as issued by the Centers for Disease Control and Prevention along with our state and local health authorities. If unforeseen circumstances warrant a change in direction, we do reserve the right to make alternative plans.
General Information
Hotel Information:

Guests

-

Due to physical distancing guidelines mandated by our venues, each graduate will be allowed four (4) guests. More information will follow regarding distribution of tickets.

Guest Hooder Information

We are making every effort to maintain the tradition of allowing graduates to be hooded by a guest hooder. As of today we plan to incorporate this very important piece into your ceremony. However, should CDC, state and local COVID guidelines change, we reserve the right to make a change in this regard. If that becomes necessary, we will provide you with as much notice as possible.

Attendance - Attendance at all Commencement activities is required of all graduates (except those noted "by invitation only").

Students who wish to be excused from attending any activity, please submit this form for review and approval by your dean.

Senior Week - More information to come
Webcast & Video -

In order to accommodate friends and family members who are unable to attend the ceremony in Municipal Auditorium, KCU will provide a live webcast of the Commencement Ceremony. Please check back here for the webcast link. Shortly following graduation video of the Commencement Ceremony will be available online. Please watch for the link on the KCU homepage.

Commencement Parking - more details will be posted as the information becomes available.
Photography - The University has combined photography services into one vendor: Lifetouch Photography of Des Moines, Iowa. Lifetouch photographers will take composite photos, class photo, hooding photos, diploma photos and a variety of candid's. In addition to the basic photos, you will also be able to purchase additional photos from their gallery of University-sponsored events (not Senior Week), mounted photos and collages or a personal book of just you and some favorite campus and ceremony shots to remember this momentous occasion. All orders, payments and inquiries will be directly between Lifetouch and you. Visit their website for more information.