Class of 2021 Commencement Central
Graduation FAQs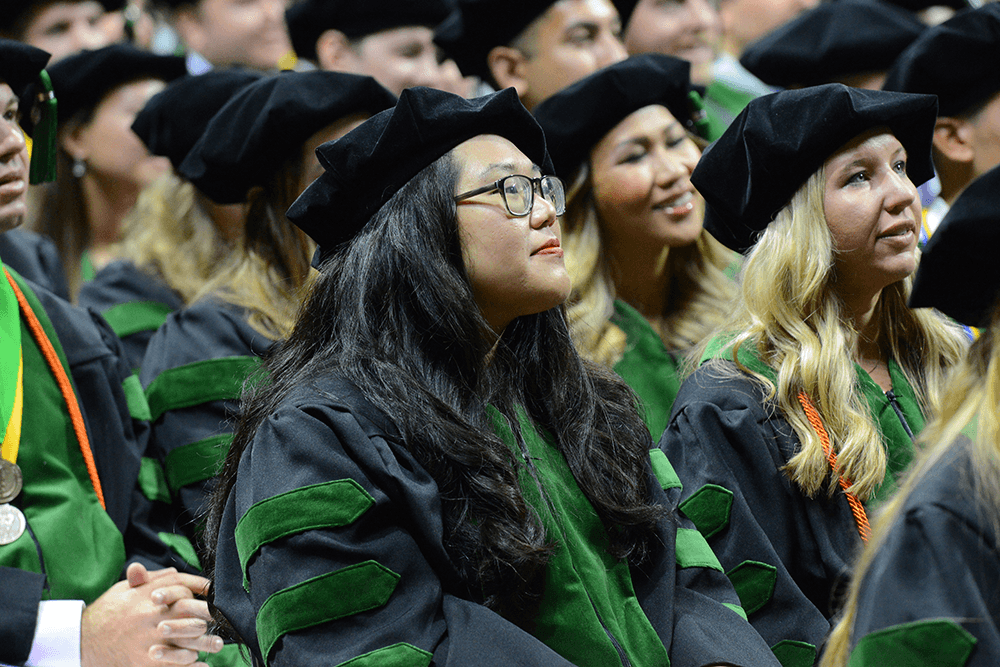 ---
Commencement Ceremony
KCU planning for an in-person commencement on campus this year?
KCU is very pleased to plan for the Class of 2021 Commencement Ceremonies in person on May 8 (in Kansas City) and May 9 (in Joplin). While we remain very hopeful that nothing will interrupt this plan, we must remain vigilant for any changes in the public health situation in our communities. We will continue to monitor safety guidelines as issued by the Centers for Disease Control and Prevention along with our state and local health authorities. If unforeseen circumstances warrant a change in direction, we do reserve the right to make alternative plans.
Are commencement activities required?
Attendance at all Commencement activities is required of all graduates (except those noted "By Invitation Only" on the published schedule) – Students who wish to be excused from attending any activity, please submit this form for review and approval by your dean.
For family and friends who cannot attend, will the commencement event be available to view online?
The entire ceremony will be live-streamed for the convenience of those who are unable to be included in your 4-guest pod.
How should I expect to receive my diploma since I will not be attending commencement?
Diplomas are provided in electronic and hard copy form. Graduate candidates will receive a communication from the Office of the Registrar in mid-April with complete information regarding diploma distribution. Candidates can select whether they want to receive their hard copy diploma by mail or pick-up in person on the KCU campus. More information regarding accessing an electronic diploma will be provided after commencement. Visit the diplomas page for more detail.
Attire and Regalia
Do I pay for my regalia?
KCU will pay for graduates' regalia. Graduates are responsible for the expense of guest hooder regalia.
Will my graduation attire be mailed to me?
No, graduation attire will be a drive-thru distribution event on each campus, one day before the commencement ceremony. Kansas City's Attire Distribution event will be on Friday, May 7; Joplin's Attire Distribution event will be on Saturday, May 8. Detailed attire distribution information will be delivered to students through email.
Tickets, Seating and Number of Guests
Will I receive tickets to commencement? If so, how many?
Yes, tickets will be distributed and must be scanned at the door for the Kansas City and Joplin venues. Due to physical distancing guidelines mandated by our venues, each graduate will be allowed four (4) guests. Seating will be assigned in pods of 4.
What is a pod?
A "pod" consists of a group of people that you trust are practicing good public health protocols and are within your "public health safe circle."
Do children need tickets, or will they be permitted to attend in addition to 4 adult guests per student?
Several students are parents, and are asking because they would like their spouse, both parents, and own children to attend. If a child is small enough to sit on the lap of a guest for upwards of two hours (three hours in KC) they will not require a ticket.
If someone isn't going to use all 4 tickets, are they allowed to transfer that ticket to someone else?
Unfortunately, the tickets should not be transferred from one graduate to another. The tickets will be for assigned seats within pods of 4. By giving tickets to the guest of another graduate, that guest would be required to sit within that graduates' pod thereby exposing them to a group that is outside of their "public health safe circle."
How will the seating be arranged to stay safe according to safe public health practices?
Seats within a pod will not be physically distanced; however, each pod will be distanced from the next pod.
I have a large family, and some are coming in from overseas to attend my graduation. Will we be able to add tickets to our pod?
At this point, we do not have the capability to distribute extra tickets. The entire ceremony will be live-streamed for the convenience of those who are unable to be included in your 4-guest pod.
Guest Hooders
What are the requirements for a guest hooder?
Please see the Guest Hooder Requirements page.
Do guest hooders need their own ticket, or are guests to the ceremony considered separate?
Your guest hooder will receive a single ticket for seating separate from your guest pod. If he/she brings a guest, you will need to include that person in your pod of four.
Will the hooders be able to bring a spouse (for those who are traveling in from out of town for the graduation), or is the seating arrangement solely for the hooder?
Guests of hooders must be included in the graduates' guest count and be seated in their pod.
Ceremony Venues and Parking
Where do I park for the ceremony?
Kansas City Graduates: In your attire package, you will receive one parking validation ticket to park in the Barney Allis parking garage at 1237 Central Street, across the street to the north of Municipal Auditorium. If the garage says it is "full" please note that this does not apply to those with validations and you may still park there. Additional lots and garages may be found throughout downtown here. If you requested handicapped parking for a guest, please have them check in with University Security at 13th and Central.
Joplin Graduates: Parking on the MSSU Campus is free. Please review this map to locate parking lots nearest the Leggett and Platt Athletic Center.
The Leggett & Platt Athletic Center in Joplin has a seating capacity of 3200 people. Why are we limited to 4 guests?
KCU did not set the guest capacity. That is set by MSSU and Municipal Auditorium and we must follow their guidelines for capacity. Additionally, both venues factor into the equation 6' physical distancing. Yes, there will be many empty seats.
Assuming the pandemic situation remains stable/improves, and if city guidelines permit, is there a chance that the number of guests per student may be increased?
We can only hope that the pandemic situation improves – if it remains stable (as it is now) that will not be a good sign. I don't think people realize that today the COVID transmission is 3 times that of exactly one year ago today. Even with some improvement, we remain constricted by the MSSU/Legget & Platt guidelines as well as Municipal Auditorium in KC.
COVID-19-Related Protocol
Will graduates and guests be screened upon entry to graduation venues?
Everyone who attends the Commencement Ceremony will have their temperature taken by an attendant as they enter the building. If an individual's temperature is 100 degrees or above, they will be unable to enter.
Are masks required at the Commencement Ceremony?
COVID-19 masks are required to be worn at every venue and at all times during all commencement events (except when eating).
Are vaccinations required in order to attend the Commencement Ceremony events?
Attendees of Commencement Ceremony and all related commencement events are not required to be vaccinated.