They started off as doctor and patient. But in the months and years to follow, they became and remain close friends. Vance Johnson, a former professional football player, and Dr. Mark Twardowski, a DO and KCU graduate, have now teamed up to deliver a message to future physicians about helping patients battling addiction.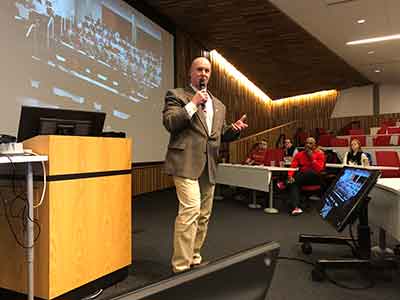 As a former wide receiver with the Denver Broncos, Johnson is used to meeting people who seem in awe of his celebrity. But when he first met Dr. Twardowski at the height of his drug and alcohol addiction, Johnson says the doctor wasn't interested in football.
"He pulled up a chair and started talking to me about Vance, about my life, my family," Johnson recalls. "Not one time did he talk to me about sports."
Both men recently visited KCU to speak to students, faculty and staff. They hope to offer advice to students who will eventually see and treat patients dealing with substance abuse and addiction.
"My word to you is be a physician, not a technician," Twardowski said. "The stuff you can do to people is not near as important as the stuff you can do for people."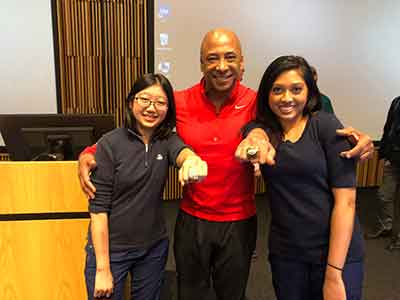 Standing in front of students at both the Kansas City and Joplin campuses, Johnson retold details of how his problems with drugs and alcohol took hold of him during his professional football career. He would show up for games still drunk, "hoping like hell I would sober up by halftime."
Johnson's career ended. His fame and fortune would soon disappear. His life nearly ended because of drugs and alcohol. Johnson was eventually hospitalized due to injuries and illness stemming from alcohol abuse.
Twardowski recalls their first meeting.
"He was a guy who was struggling like so many people, but he still has this inner twinkle in his eye as somebody who has tremendous inner strength," he said. Twardowski told students his goal was to help Johnson tap into that inner strength and get on the road to recovery.
Today, Johnson says he has been sober for more than four years. He travels the country speaking to groups about his experience and offering hope to the struggling addict and their families. In October, he spoke at the 2017 Annual Clinical Assembly of Osteopathic Surgeons conference where he reunited with Dr. Twardowski.
At KCU, Twardowski encouraged students to get to know their patients.
"You can't just treat a symptom. You can't just treat a small part of your patient," he said. "The physician part of being a doctor is the ability to look at somebody and see the inner strength, to see the person who's there."