It was 1998; Miguel Hernandez, DO, (COM '08), was 21 years old, a vibrant young man, contemplating his professional path. While preparing to take the LSAT, life abruptly and unexpectedly created a plot twist that would profoundly alter his course.
"I was in Albuquerque for the summer," Hernandez said. "One day I experienced significant abdominal pains and my fraternity brothers rushed me to the emergency room."
Hernandez woke up a month later, lying in a hospital bed with an IV pole next to him; mechanical ventilation had sustained him for 30 days. Flooded with paralyzing fear and unable to speak because he just been extubated, Hernandez whispered hoarsely to the nurse. "Do I need surgery?"
The nurse responded: "You've had three."
Stunned, Hernandez's fuzzy, careening thoughts took shape. During his month on life support, Hernandez had heard, hazily, snippets of conversation between members of the medical staff, including some terrifying comments about his prognosis.
"It sounds crazy, but I started thinking I had been drugged and my organs were being harvested," he said.
Hernandez's parents allayed their son's fears, telling him that doctors diagnosed him with a severe case of necrotizing pancreatitis induced by gallstones. Being young and invincible, Hernandez had ignored symptoms that plagued him days prior to the ER visit: abdominal discomfort with pain radiating to the back.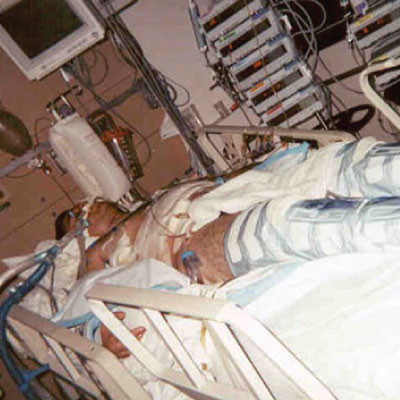 Facing insurmountable odds—because of his complications with necrotizing pancreatitis, Hernandez was given less than a 10 percent chance to live—and, with the help of a passionately engaged family agonizing at his bedside and attentive medical care, Hernandez survived. He emerged on the other side of his six-month hospital stay—three in Albuquerque, three in San Antonio, where his family lived—with a dramatically different perspective on life. And a thirst to thrive.
"I became acclimated to the regiment of hospital life," Hernandez said. "Imagine your predicament—you're 21 and think you're an adult, but in so many ways you're still a kid. And you're recovering, after being at death's door, utterly dependent on a nursing staff to clean up after you. It was humbling."
Hernandez believes that at some point in their life, every physician should be vulnerable and understand what it's like to be on the patient side of the bed.
"Some of the medical staff commented that my family was 'challenging," he said. "Of course, I disputed that. My parents were doing what they should have been doing for their son—fighting every step of the way, advocating for high-quality, compassionate health care."
Four months after being admitted to the hospital, Hernandez struck an emotional bottom. A steady stream of physicians, fellows and residents was in and out of his room. His spirit was wavering. Then, one day, the hospital's chief interventional radiologist—who Hernandez witnessed quizzing fellows and residents on what measures they were taking to make him better—paused during rounds.
"As I was quietly crying, he took a seat next to my bed," Hernandez said. "Although I didn't know him, I confided every scared feeling I had. My emotions were raw. That doctor looked at me, gently reassuring that he would do everything possible to make my recovery as painless as possible."
Looking with admiration at the doctor dressed in the crisp white coat, Hernandez had an epiphany. It wasn't law school he wanted to pursue—it was medical school.
"That moment proves another point—it's impossible to know how, when or where you'll impact a person's life," Hernandez said.
Embracing the Plan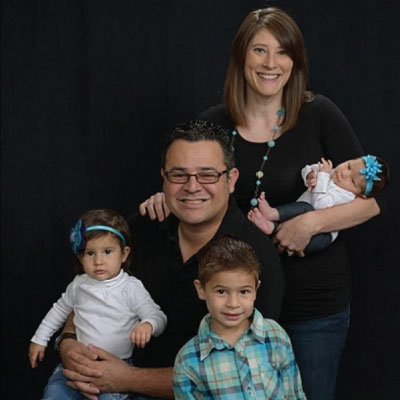 Adversity and diligence, Hernandez discovered, are sometimes necessary ingredients for success and played a role in his admittance to Kansas City University of Medicine and Biosciences (KCU).
"There was a reason that physicians saved my life and God sent me to the heartland to medical school," he said. "It was a plan, a grand scheme. And if I wouldn't have come to Kansas City, my wife and I wouldn't have met, and I wouldn't have three beautiful children."
Now 41 years old, Hernandez is medical director for nursing homes in the Dallas-Fort Worth area and married to Kristina—a KCU graduate (COM '08) who works in hospice care. He recalls being convinced at times during his extended hospitalization that he was on borrowed time and being unsure of the future, if it existed at all. Hernandez's harrowing personal story—one that he shares regularly with medical students in crowded lecture halls, including KCU, and even colleagues and other physicians—isn't to elicit sympathy or accolades for his perseverance through a difficult situation.
"When I tell my story, the goal is to motivate and energize students and even help recharge fellow physicians," he said. "And to reinforce how to not lose sight of what patient care means."
Formerly a hospitalist at a busy university hospital with a rigorous schedule, Hernandez rarely saw his family and knew he needed to change direction.
"You can't be a good doctor without quality of life at home," he said. "Kristina and I knew that the nursing home niche was in desperate need of doctors who care. Every day I get to interface with families—people advocating for their loved ones, like mine did for me. These patients offer priceless life lessons if you listen."
Kristina acknowledges that her husband's unique outlook on life, as a result of his earlier medical struggle, has equipped him to care for a patient population that is sometimes forgotten.
"Miguel has a remarkable bedside manner and he's helping to set a higher standard for quality care in nursing homes," she said. "He's not just treating patients, but empowering families, too."
Hernandez credits KCU with giving him the opportunity to succeed.
"They saw something in me and believed in me," he said. "And, like my family always supporting me during my illness, the faculty was there for me. I'm proud to be a Doctor of Osteopathic Medicine."
Mentor to Mentor
Hernandez—a young medical student, only a couple of months into his KCU journey— met James Pike, DO, (COM '84), at a homecoming lunch in 2004. They clicked, but it was a random act of kindness later in the day that cemented their relationship.
"I was in the University bookstore, buying textbooks, and Dr. Pike walked up behind me and paid for my purchase," Hernandez said. "'Just remember to do this for another student,' he told me. Like everything that happened to lead me to KCU, it wasn't a coincidence."
Dr. Pike kept tabs on Hernandez throughout medical school, offering advice, support and encouragement. Hernandez asked Dr. Pike to hood him during his 2008 graduation ceremony and today, the two physicians remain in regular contact, sharing meaningful conversations about their profession, concerns, victories, struggles and hopes.
Following in his mentor's footsteps, Hernandez takes medical students under his wing.
"Being humble and willing to learn are essential attributes in any future doctor," Hernandez said. "Listening, caring and being passionate about patient care—these are important things I saw in the doctor who comforted me when I was at a low point during my illness, things I learned at KCU to help prepare me for my future work and the qualities in my mentor."
For Hernandez, the journey to this point in his life has been anything but predictable—and for that he is grateful.