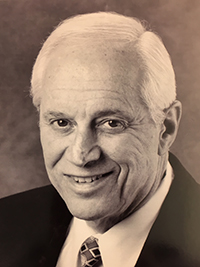 KCU regretfully announces the passing of long-time friend and advocate Leonard Smith, DO (COM '54). Dr. Smith passed on Dec. 14 in his town of Langhorne, Penn.
Dr. Smith was a significant supporter of the University, contributing through service and planned giving. He served as the president of the Alumni Association as well as on the Board of Trustees. He established a KCU scholarship in his and his wife Francine's names in 2004, and again in the week leading up to his death.
Dr. Smith often said that KCU 'saved his life and gave him his life.' When the Korean War was in motion, there was a real possibility he could serve overseas. However, Dr. Smith was accepted into KCU and began his career in medicine.
In 1955, Dr. Smith returned to his home state of Pennsylvania and opened a family practice, which his son, Michael, currently runs. In 1993, he received the KCU Presidential Award for Outstanding Alumni, and in 1999, the Alumni Hall on KCU's Kansas City campus, was renamed the Leonard Smith Hall in honor of his generous contributions to the University.
Dr. Smith leaves behind his loving family and KCU will certainly miss his history of dedication.