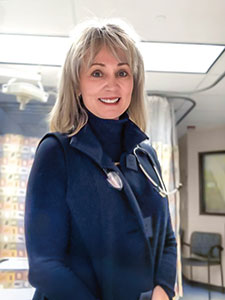 Kansas City University of Medicine and Biosciences (KCU) announces the appointment of Laura M. Rosch, DO, CS, MS, FACOI, to the position of campus dean for the College of Osteopathic Medicine (COM) at our KCU-Joplin site. Rosch will begin her position at KCU-Joplin on Jan. 2, 2019.
Rosch has amassed a distinguished career working as a practicing physician, medical educator, wellness advocate and community leader.
She currently serves as chair of the Department of Internal Medicine at Midwestern University's College of Osteopathic Medicine in Downer's Grove, Illinois. In addition, Rosch is a hospitalist in Winfield, Illinois. She also served as a program director at both Mt. Sinai Hospital and Medical Center, and Good Shepherd Hospital in Barrington, Illinois.
"Dr. Rosch has had a successful career as a physician and medical educator," said Darrin D'Agostino, DO, executive dean of KCU College of Osteopathic Medicine, and vice president for health affairs. "KCU is fortunate to have her take the helm of our Joplin campus of the College of Osteopathic Medicine. Throughout her career she has been a strong advocate for both students and faculty. She is not afraid to take on challenges and enjoys learning as much as teaching."
Rosch's primary responsibilities at KCU-Joplin will include managing and directing the daily operations of the Joplin medical school campus as well as ensuring students' wellbeing and academic success. Dr. Rosch will be part of the KCU COM Dean Leadership team committed to the seamless integration of the two medical school campuses.
"Dr. Rosch is a team builder," D'Agostino noted. "Her skills and commitment will help her drive academic and clinical excellence."
"I am so proud to be joining the KCU-Joplin team," said Rosch. "This is a fantastic opportunity to serve the community by educating the next generation of physicians for Joplin and the region. The entire community supports this effort; Joplin truly is unique and special."
Rosch says she looks forward to expanding research for KCU-Joplin medical students, developing graduate medical education opportunities and encouraging students to model good health for the community. She has a rich background in disease prevention, nutrition, exercise and stress reduction. Rosch plans to use that background to teach students the value of self-care as it relates to the principals of osteopathic medicine.
"Physicians should always be teachers and models of healthy behavior," Rosch noted. "First and foremost, you've got to take care of yourself in order to take care of the people you serve."
Rosch earned a Doctorate of Osteopathic Medicine from Midwestern University's Chicago College of Osteopathic Medicine. She holds a master's degree in nutritional science and has served as a clinical instructor at the University Of Illinois Department Of Nutritional Sciences. Rosch is the past president the Illinois Osteopathic Medical Society, and is a past member of the American Osteopathic Directors of Medical Education. She has presented nationally as an expert on medical issues.