(Kansas City, Mo. – February 4, 2021) The Big Game is almost here.
When the Kansas City Chiefs face off against the Tampa Bay Buccaneers this Sunday, there is more on the line than just the Lombardi Trophy. That's because Kansas City University president and CEO Marc B. Hahn, DO has placed a wager on the game against Nova Southeastern University president and CEO George Hanbury, PhD.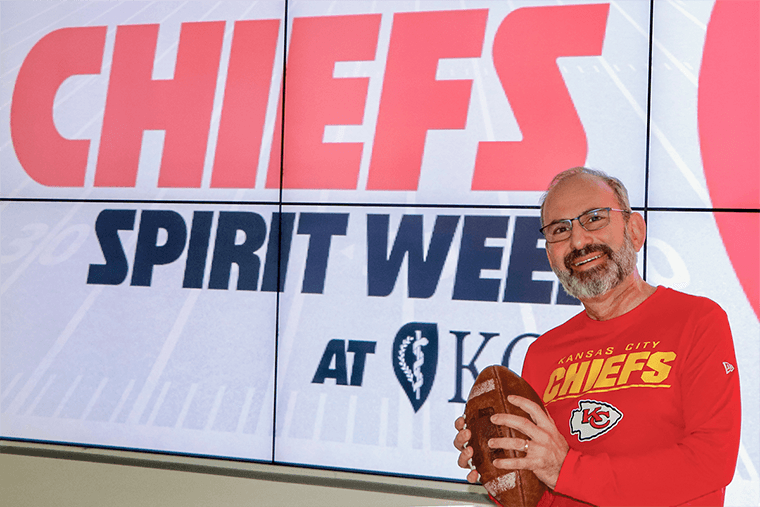 "It only makes sense that our universities, with two of the finest osteopathic medical schools in the nation make a little wager on this matchup between the two best teams in the NFL," said Hahn. "We may not have an ocean here in the Midwest, but Kansas City pride runs deep on our campus and the city is a sea of red as our team gets ready to #RunItBack for another victory."
"Oh, it's on," said Hanbury. "When Dr. Hahn extended the bet, there was no way I was going to say no. NSU has a big presence in the Tampa Bay area and our students, faculty and staff have a lot of pride, so we are behind the Bucs 100 percent."
So what's the wager? If the Bucs win, Dr. Hahn will be sending Dr. Hanbury $100 worth of world-famous Jack Stack barbeque. But what if the Chiefs are victorious? Well, then Dr. Hanbury has to ship $100 worth of internationally renowned Joe's Stone Crab claws.
Like KCU, NSU has an established College of Osteopathic Medicine program with a branch campus in the Tampa Bay area, so it was only natural for our two schools to enter into a friendly wager.
Pride of course, comes naturally to the Kansas City Chiefs Kingdom. "I informed Dr. Hanbury the Chiefs are famous for having the loudest, proudest fans in the world," said Hahn. "I suspect our friends in Tampa will be able to hear our community cheering all the way from Kansas City."
There is one more addition to the bet, the "losing" university president agrees to wear a sweatshirt from the "winning" president's university.
###
Media Contact
Elizabeth Alex, Public Affairs Director, (816) 654-7032, ealex@KansasCity.edu