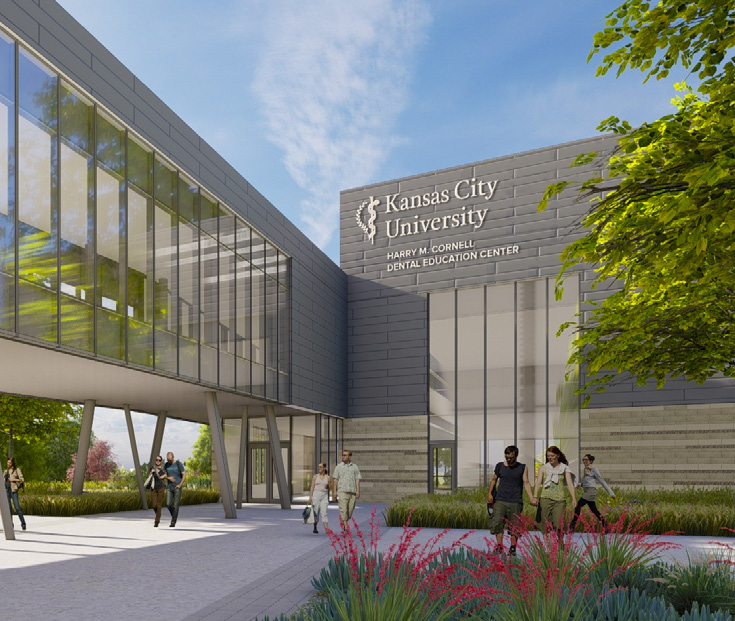 As the Kansas City University College of Dental Medicine (KCU-CDM) prepares to accept student applications for its inaugural class, the Patterson Family Foundation challenged KCU to raise $1 million for scholarships and will match it dollar for dollar once the goal is reached, creating a $2 million scholarship endowment. This important fundraising effort will support KCU dental students from areas with populations of 50,000 or less who may not otherwise have a pathway to dental school.
The ultimate goal of this challenge is to provide scholarships to recipients who will likely return to their rural home community to practice following graduation from KCU-CDM. Research shows that dentists from rural areas tend to return to those communities to build their practices. Currently, there is a severe shortage of dentists in the four-state region of Missouri, Arkansas, Oklahoma and Kansas. Every gift toward the match challenge will go twice as far creating a ripple effect and help to provide the region with accessible oral health care. KCU hopes to award the first scholarships to the inaugural class that starts in July 2023.
Donors of $100,000 or more may name a scholarship. The first scholarship established has been named in honor of Linda C. Niessen, DMD, MPH, MPP, founding dean of the new College of Dental Medicine and vice provost of Oral Health Affairs for KCU.
"Gifts to the Patterson Family Foundation scholarship challenge will allow the College of Dental Medicine to recruit the best and brightest students from rural communities and underrepresented minority students—the next generation of dentists. These outstanding students will contribute to building KCU's culture of diversity, inclusion and equity," Niessen said. "The matching component will jump start the amount of scholarship funds available for under-represented minority students and students from rural communities with demonstrated financial need."
To learn more or donate, visit https://community.kansascity.edu/CDMGifts or call the Office of Philanthropy and Alumni Relations at 816.654.7280.