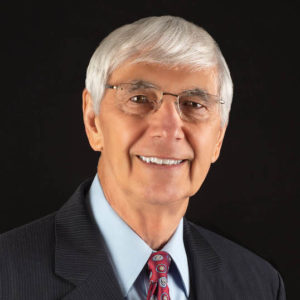 Kansas City University (KCU) is honored to welcome alumnus and current president of the American Osteopathic Association (AOA), Thomas L. Ely, DO, as a keynote speaker for 2021 commencement ceremonies to be held Saturday, May 8, 2021.
Ely, a 1980 graduate of KCU is a family physician in Clarksville, Tennessee who has been a passionate advocate for osteopathic medicine over the course of his career. Ely is also a supporter of non-traditional students having taken a less-traveled path to medical school himself.
"I was 13-years out of college," Ely noted. "I had been in the military and served as a combat veteran as a 'Dustoff' medical evacuation pilot in Viet Nam. I was told at 28 I was too old to go to medical school but I managed to get an interview at Kansas City University and was accepted on the spot."
In his speech to the graduating class of 2021 Ely said he will emphasize the need to stay connected to one another after a difficult year of remote learning due to the COVID-19 pandemic. "Osteopathic physicians often choose our program because we like to interact with others," Ely said. "This is a time for osteopathic physicians to truly band together and stay true to our osteopathic roots; for the benefit of our patients and our colleagues in the medical profession."
Ely has wealth of experience to share with students entering the fields of medicine and science. He has been a member of the AOA since 1980, and was elected to the AOA's Board of Trustees in 2006.
He is past president of the Tennessee Osteopathic Medical Association and a member of the American College of Osteopathic Family Physicians. He was appointed to the Tennessee Board of Osteopathic Examination (licensure board) for 9 years.
Ely said he wants to encourage graduating students to stay involved with KCU as alumni, and highlight the importance of integrating osteopathic philosophy and principles into residency and medical practice.