What does a scientist do when he has a heart for treating cancer patients, but wants to conduct research that could cure them? For Andrew Sulaiman, PhD, the answer is simple. Do both.

When Sulaiman received his student doctor white coat at KCU, he already had a doctorate of biochemistry and received word his research on the breast cancer subtype, triple negative breast cancer (TNBC) was scheduled to be published in July. As a doctoral candidate of osteopathic medicine, he is following his dream to become a rare breed in the field of medicine: a physician-scientist.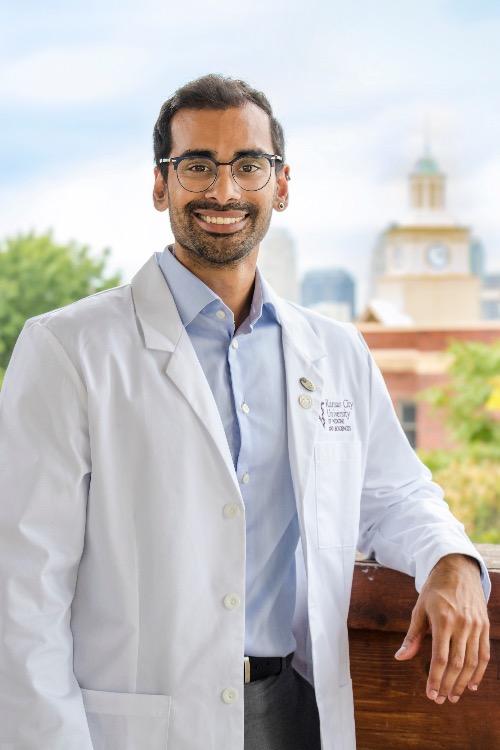 "I have always been passionate about oncology and research. This passion drove me to undertake a PhD in biochemistry at the University of Ottawa, Canada," Sulaiman said. "Through my time in graduate school, I established myself as a scientist while learning about cutting edge oncology research. This experience further instilled in me a desire to become an oncologist."

Sulaiman knows well the education and commitment required to succeed as an oncologist and a researcher. But as he worked to earn his science credentials, he felt a strong bond with patients.

"What hit home for me was getting patient samples and working with patients. While I love the science side, there was a disconnect from the actual clinic – scientists aren't doctors and doctors aren't scientists. It leads to this gap between the two." Sulaiman said. "I think having that drive to not just accept what we have right now, but looking to what medicine could be, is the core. I saw the benefit of becoming a physician who understands both sides."

Sulaiman has also been impacted by cancer in his family through his mother-in-law, Pat, and her diagnosis and treatment for TNBC. She is now in complete remission and doing well. His father, Raymond, was recently diagnosed with leukemia, but is doing well. His loved ones are a driving factor, raising the bar for him to improve care and outcomes, especially for patients with TNBC.

"It wasn't until I met my fiancé, Sarah, in undergraduate about seven years ago when her mom was in remission – that's the first experience I've had with a family member and cancer," Sulaiman said. "I didn't understand the scope of something like cancer, but when it happens to someone in your family, it becomes way more personal. After chatting with my fiancé and mother-in-law and seeing what this does and then doing my own research, and seeing how complicated this disease is, it really motivated me on a personal side and on a medical side."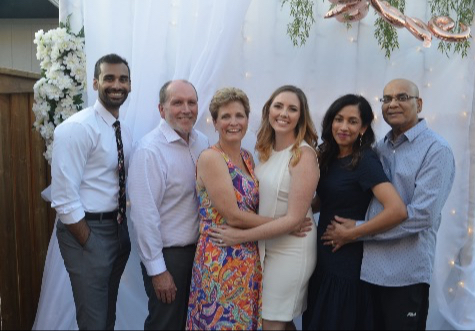 In July, his research article, "Co-Targeting Bulk Tumor and CSCs [cancer stem cells] in Clinically Translatable TNBC Patient-Derived Xenografts via Combination Nanotherapy," published in Molecular Cancer Therapeutics, an American Association for Cancer Research (AACR) journal.
"Cancer can affect anyone regardless of individual attributes or societal standing," Sulaiman explained. "Its prevalence with its personal relation to myself made me dedicated to doing what I can to contribute toward an improved therapy."
His recently published research was recognized by the publishing journal as one of seven promising, high-impact articles on treatment and therapy for breast cancer awareness month. The editor also put out a commentary highlighting his article.
"Throughout my PhD, I focused on triple-negative breast cancer," Sulaiman said. "It is the most aggressive subtype and there is currently no specific therapy for treatment."
To best target TNBC tumors he and his research team developed therapies to target the tumor and its cancer stem cell population. The cancer stem cell population can fuel metastasis and create tumor progression as well as resistance. Sulaiman's research accomplished the goal and showed the therapy's effectiveness and tolerability. These advances highlight a new approach for the treatment of TNBC and researchers hope to move it into the clinic setting next.

"This was the culmination of a lot of hard work," Sulaiman said. "The therapeutic delivery was not just able to localize at the tumor and reduce tumor burden, it could target the cancer stem cell populations within TNBC tumors, in vivo."

Sulaiman has many years of study and training before he achieves his dream, but he is already off to an accomplished start.

"My drive has always been to become an oncologist. My goal was to become a proficient researcher – to learn about the field of oncology, and be a part of cutting-edge oncology research," he said. "My research and PhD background will make me a better clinician in the future and my DO degree will give me unique perspectives on translating my research into clinical practice, benefiting my patients."