COVID-19 is exposing weaknesses in the U.S. public health system and shines a harsh light on the inequity of underrepresented communities. The pandemic has brought the urgent need for physicians with expertise in public health to the forefront of medical care.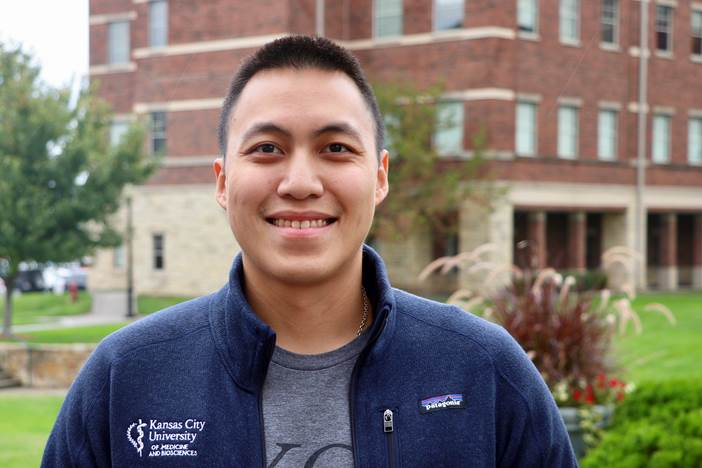 With that in mind, Kansas City University is pleased to announce second-year medical student Joe Li, of Brooklyn, New York, has received the U.S. Department of Health and Human Services, U.S. Public Health Service Excellence in Public Health Award.
"Joe has demonstrated leadership and attention to public health issues while attending medical school at KCU," said Darrin D'Agostino, DO, executive dean of the College of Osteopathic Medicine and Vice President of Health Affairs. "We are delighted he has been given this prestigious award. We could not be prouder of him."
The award is a competitive honor given to a medical student who demonstrates leadership in public health. The award is based on the public health program and community work performed during the recipient's medical education. Li has demonstrated compassion and leadership during his time as a student of KCU's College of Osteopathic Medicine, and throughout his academic career. He earned a Bachelor of Science degree from Hunter College, The City University of New York, a Masters of Public Health at Columbia University, Mailman School of Public Health, and a Masters of Biosciences at Rutgers University, Graduate School of Biomedical Sciences.
During that time Li worked as student investigator to analyze data on the environmental health effects of the World Trade Center tragedy and the impact on pregnant women and their babies. Li also worked with community-based and faith-based organizations and hospitals to support housing assistance and HIV prevention education. He organized follow up services for emergency department patients at New York Presbyterian Hospital, provided health education to youth and helped launch a text messaging program to improve access to clinical services for teenage patients.
He drew from his own family experience for inspiration.
"As a minority and a child of immigrants, I witnessed first-hand how difficult it is to navigate through our complex health care system," Li noted. "Language barriers, limited access to care in low-funded neighborhoods, financial stability and lack of transportation. These social determinants of health are tied with systemic oppression, disadvantaging so many people of color, immigrants and lower-income populations."
Despite the rigorous curriculum of medical school at KCU, Li volunteers as a CHAMPS coach, in the University Coaching Health and Movement Program, helping children and families establish healthy lifestyle choices. He travelled to Kenya as part of KCU's Global Health program to provide free primary care, patient education and medication for patients in a non-profit clinic, serves on the coordination committee of the House of Delegates for the American Medical Association and sits on the National Student Executive board for the Association of American College of Osteopathic Family Physicians.
"As a future physician, I think it's paramount to consider all the physical, mental, environmental and socioeconomic factors that contribute to health. I feel that I have a moral obligation to always keep public health close to me, in the hopes of lifting the structural barriers that prevent us from achieving the best health outcomes," Li said.
Li hopes to blend public health with medicine over the course of his career as a physician, to help individual patients live healthier lives and to advocate for the health of the greater community.