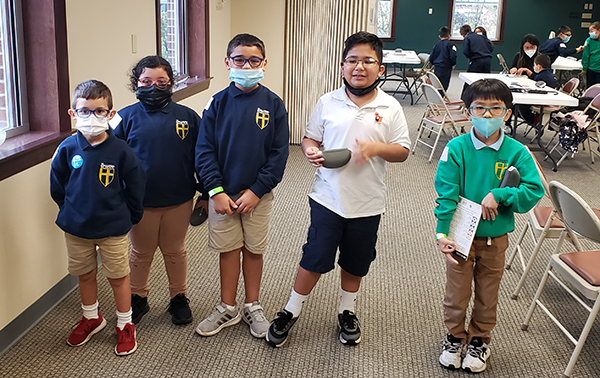 After a one-year hiatus due to the COVID-19 pandemic, KCU Score 1 for Health and OneSight continued their long-time partnership and annual clinic to provide free eye exams and glasses for more than 400 children during the week of October 11, 2021. The clinic, held on the KCU-Kansas City campus, is a win-win for the Score 1 partner elementary school students and KCU osteopathic medical students alike.
Each day, several groups of local elementary school children arrived on the KCU campus and walked through the eye exam clinic stations. Approximately 60 first- and second-year KCU College of Osteopathic Medicine (COM) students volunteered to assist and gained experience in ophthalmology by working with the pediatric patients, scribing for the physicians and observing the patient interaction.
"It's an exciting clinic. This is our fifth year hosting the event, it's a week-long clinic," Annette Campbell, Director of Score 1 for Health, said. "Because of COVID, we lowered the goal so that we could make sure we have the clinic run in a way that's safe, and we aimed for 400 children and we're going to top that goal. It just really speaks to the need. You know, we've gone over a year without vision screenings, and we've been over a year for most kids without any eyecare, and to be quite honest, a lot of the kids that we are helping have never even been to an eye doctor anyway, regardless of a pandemic."
The OneSight® Mobile Vision Clinic and Score 1 partnership serves children who otherwise might not have the opportunity to get prescriptive glasses. Through this clinic, the children will receive them for free regardless of insurance coverage or the ability to pay. The kids select their frames and then simply wait while the glasses are made on site. Each year, over 90 percent of children attending the clinic receive eyeglasses and/or a referral for further vision services.
Most of the children participating in the clinic were pre-screened by Score 1 medical students and nursing students from partner colleges and universities in preplanned screening days at the schools, such as Score 1 health assessments. So, when it comes time for the mobile vision clinic, the children walk in the door ready for a detailed and thorough eye examination.
OneSight's mobile vision teams travel throughout the United States (and throughout the world) and depend upon local partners, like Score 1 for Health, to host and help coordinate its mobile vision care services for children as well as adults.
Other organizations also provide expertise and valuable partnership to host a successful vision clinic. Fidelity Security Life (FSL) Insurance Company underwrites part of the cost and coordinates a team of volunteers, including FSL employees, KCU medical students and local optometrists. Turn the Page KC reading program donates books every year to give to children at the clinic, and Fairway Eye Center agrees to see children for follow-up and special circumstances that warrant on-going vision care such as treatment for amblyopia and retinal problems.
KCU is proud to be a part of this effort, and grateful for the teamwork of the organizations that come together to help our local children improve their vision and see a better future.
---
Related Stories
Article in the Northeast News, Oct. 20, 2021
Related story A Future So Bright, Spring 2020 KCU Magazine