Last semester, a team of more than 40 third- and fourth-year KCU osteopathic medical students traveled to Guatemala to provide health care and education to residents of underserved rural villages. The trip is part of KCU's Global Health Program, which has provided aid for more than two decades.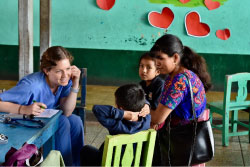 "On these trips, we do all aspects of primary care, and students have the chance to work with KCU alumni in many fields, including family medicine, internal medicine, pediatrics, orthopedic surgery, physical medicine and rehabilitation and obstetrics/gynecology." said Dr. Gautam Desai, the director of the program, who also led the team.
In addition, the team worked with other health care professionals, who volunteered their time, including pharmacologists, physician assistants, PA students, translators, and osteopathic manipulative specialists.
The international service trips challenge students to make the most of their talents while putting their skills to work to help people in need. "The students have to rely on their eyes and ears instead of ordering testing, so they will talk to a patient and obtain their history, and then conduct a physical examination. All of this is in Spanish (or one of the Mayan language dialects), which improves their medical Spanish." Desai explained.
After that, the students present their patients to one of the licensed physicians/PA's on the team, who checks the student's findings, then they develop a treatment plan together. Most patients then go to the team's pharmacy for free medication.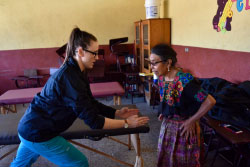 "If we decide the patient would benefit from getting an injection in the knee or shoulder or benefit from osteopathic manipulation, they would receive that. We also have the ability to conduct some diagnostic testing, such as blood sugars, urinalysis and pregnancy tests, so we can do that if needed. Most of the diagnoses are made the old fashioned way, based on the history and physical exam." said Desai.
Anne-Marie Priebe, DO (COM '07), a pediatric and adolescent gynecologist at Children's Minnesota in Minneapolis. She participated in KCU's outreach to Guatemala while a medical student and accompanied the KCU team on this trip.
"I've been on several service trips now, and it shouldn't surprise me, but every single time there's something a patient says that gives you a lot of satisfaction. Watching the students serve the people in Guatemala, there's so much personal growth that comes from these experiences." Priebe said. "I encourage people to go if they have the opportunity to serve somewhere. It's just a great learning experience, and a chance to see the world from a different point of view."
Priebe recalled an especially touching moment when she and her colleagues were able to assuage the fears of a young patient. "She had a miscarriage in her prior pregnancy. We were able to do an ultrasound and show her that her 20-week pregnancy was normal." Priebe said. "She had been very nervous, of course, so that reassurance was helpful."
Fourth-year osteopathic medical student Alex Cook is enrolled in the Global Health Track. This was his second service trip to Guatemala and he recalled the reception that the team received from the Guatemalans. "They would come and give us coffee and food. Sometimes they were clapping when we arrived." Cook said. "It was a great experience, and of course we learned so much about becoming doctors and caring for patients."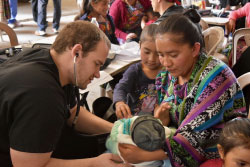 Despite all the positive health outcomes that KCU doctors and students managed with limited means, and despite the positive feedback from the local residents, there are difficult moments. Cook recalled his trip to Guatemala last year when an older man came in complaining of difficulty breathing. "He had been losing weight and had a history of smoking. His breath was uneven and sounded different on one side," Cook said. "We had a rudimentary ultrasound there, and sure enough, he had some fluid in his lungs. The intern and I agreed there was a strong likelihood of cancer. We spent an hour or so talking with him and his family, encouraging him to go to the hospital to get a full workup, explaining that this was serious. That was a tough day."
One of the most valuable takeaways for the students on these service trips is learning to adapt. "The students were great at adjusting to whatever situation at hand and rolling with the punches," said Priebe. "They were working hard up to the last patient on the last day."
Seeing difficult conditions up close is also a game changer for many of the students, said Dr. Desai. "When the students go on these trips and see how people live in Kenya or Guatemala, what real poverty is like, they come home with a new perspective."