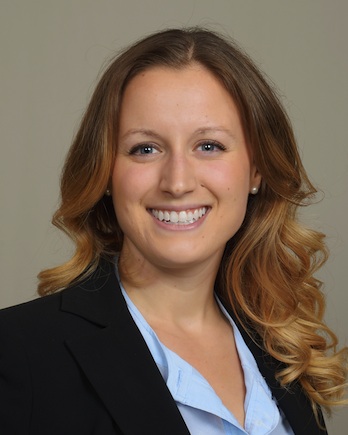 Congress recently released a bill called the PROSPER Act (the Promoting Real Opportunity, Success, Prosperity through Educational Reform Act) that would update the Higher Education Act of 1965. Among other things, this bill proposes changes to student loans and loan forgiveness programs. As it stands now, the bill proposes eliminating the Public Service Loan Forgiveness program, also known as PSLF.
What is PSLF?
PSLF was implemented in 2007 to give graduates of professional degree programs who practice in public service settings an opportunity to have their educational debt forgiven after 10 years of service and loan payments. This program is open to health professions students, such as medical and dental graduates, as well as other professionals in public service fields such as social workers, teachers and psychologists.
PSLF was designed to encourage young professionals to start their careers in traditionally underserved public settings by reducing the financial insecurity caused by high loan debt, which is often more difficult to pay down because of the lower-paying careers available in the public service sector. This, in turn, would help fill some of the service needs in communities struggling to find enough health and education professionals. The program just reached maturity in October 2017, when the first graduates would have been eligible to have their loan balance forgiven. More information on the program can be found here.
How PSLF Helps Students
Graduate student debt has been rapidly growing, especially in the health professions. The average osteopathic medical student graduated with $247,218 in debt in 2017. While this is manageable in some private practice settings or high-paying subspecialties, many students see this debt load as insurmountable. This is especially true in the primary care fields and for students hoping to practice in rural or underserved areas.
I'm a fourth-year medical student with a loan balance close to that average debt number and a plan to enter pediatrics, so this program is especially meaningful to me. I grew up in a small town in southern Wisconsin and know about the care disparities caused by physician shortages in rural areas. I hope to practice in a rural or underserved area in the future.
However, the reality of my student debt poses some challenges in pursuing this career while making sure I maintain my own financial stability. The graph below that shows projected debt payoff rates for an orthopedic surgeon, an oncologist and a pediatrician based on average salaries for each. You can see that, even after 30 years of payments totaling 10 percent of their income, the pediatrician is still saddled with over $150,000 in loans!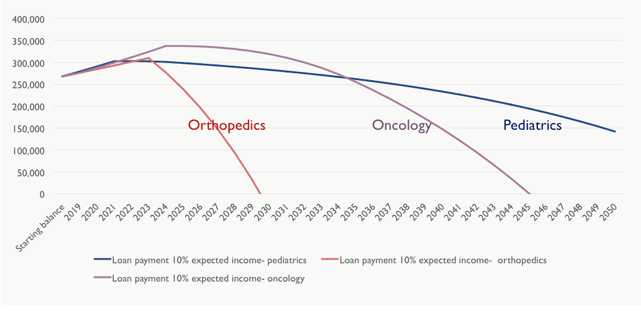 When this is the financial reality, it can be difficult to ask young doctors, who are often starting families and buying homes around the time they finish residency, to decide on a lower-paying career in the public service sector. The PSLF program is critical for removing debt from the career decision and allowing young doctors like me to pursue the service careers we've always dreamed of without fearing for our financial future.
How PSLF Helps Hospitals
The PSLF program is not only important for new physicians. It is also greatly beneficial for the hospitals trying to attract new physicians to their underserved area. These hospitals are often among the most cash-strapped, as they serve largely uninsured or underinsured populations, so recruiting doctors based on salary alone simply isn't feasible.
Programs like PSLF are crucial for leveling the playing field and making these hospitals attractive places to work. Many physicians enter medicine because they want to provide a career of service, and hospitals that are included in the PSLF program allow them to do just that. The opportunities provided by loan forgiveness ends up creating great benefits for young physicians, hospitals, and, most importantly, the patients struggling to find care in underserved areas.
What You Can Do
Right now, the PSLF program is at risk of being eliminated entirely. An amendment to save the program was narrowly defeated in Congressional committee, partially because some senators decided not to vote down party lines on the issue. This is an opportunity to show our representatives why maintaining the PSLF program is so important for the future of the physician workforce. You can do this in any of the following ways:
Lobbying works and your voice is important. Contact your representative now! If you need help drafting an effective letter or template, please feel free to reach out to me at kkaeppler@kcumb.edu.
Katie Kaeppler is a fourth-year medical student at Kansas City University of Medicine and Biosciences who is pursuing a dual DO/MBA degree with a particular interest in health systems science and advocacy. She recently completed a policy internship with the American Association of the Colleges of Osteopathic Medicine (AACOM) and has completed multiple policy courses throughout her MBA coursework. She plans to pursue a career in pediatrics and is very interested in how policy, community environments and social factors affect children's health.