Administrators and students at Kansas City University (KCU) had a rare opportunity to spend an hour with U.S. Rep. Emanuel Cleaver, II, D-Mo., in a roundtable discussion regarding topics impacting health-care providers now and in the future.

Marc. B. Hahn, DO, KCU president and CEO, led the discussion that touched on student debt, Medicaid expansion, patient access to health care and the toxic climate in Washington, D.C.

"These are issues KCU faces as a health sciences university every day," said Hahn. "Our students will face difficult realities. It's important to be discussing ways we can all be part of the solution to these problems that will have negative effects on our patients."

Students nodded in agreement as Cleaver expressed his deep concern about the big-picture problem of student loan debt. Cleaver noted the student loan default rate today is equal to the overall default rate that sent the country into the great recession. While the rate of KCU gradates' student loan defaults are very low, medical students often graduate from the College of Osteopathic Medicine with $250,000 in student loan debt; a stressful start to their medical careers.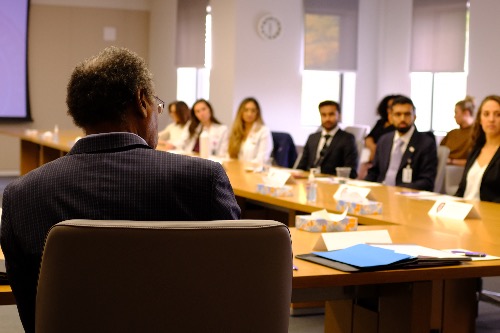 "Student debt is simply a problem we have to solve," Cleaver said.

Discussion also focused in on misconceptions surrounding culture and socioeconomic determinants of health. Cleaver told the students that while the average person believes people living in urban core areas of the state experience the most extreme conditions of poverty, people living in rural areas are actually most challenged. He said rural hospitals are closing and physicians are not locating to rural areas, thereby creating a crisis.

Student doctor Katherine Grabowski expressed an eagerness to solve the problem.
"A process of learning is also a process of unlearning," she said. "It's important to us as future health care providers to think of how we meet patients where they are, and breaking down barriers that prevent access to care."

Hahn, Cleaver and the students also touched on Medicaid expansion and a ballot issue in Missouri that could bring expansion to a vote. Cleaver told students one half million to 800,000 Missourians without access to coverage could immediately be covered.

Cleaver also weighed in on a disturbing problem he has worked diligently to change: ugly discourse in the nation's capital.

"I'm concerned about our country," he said. "Nasty is in, and courtesy and kindness are out. Phones are an instrument of hate. You want to know what you can do? Listen to the candidate who will tell you they'll be nasty. They'll say it in their ads, and you'll know what kind of person they'll be by how they run their campaign."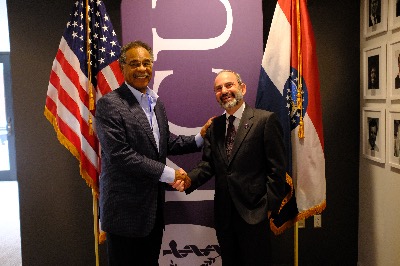 Cleaver concluded the roundtable on an encouraging note, telling the medical, biosciences and clinical psychology students they give him hope.


"The people who do what you do represent the hands of God," Cleaver said. "Your jobs will be made more difficult if we can't solve problems. We've got to give you the chance to improve the lives of people. When I come to settings like this, I become more committed."