LGBTQIA+ Initiatives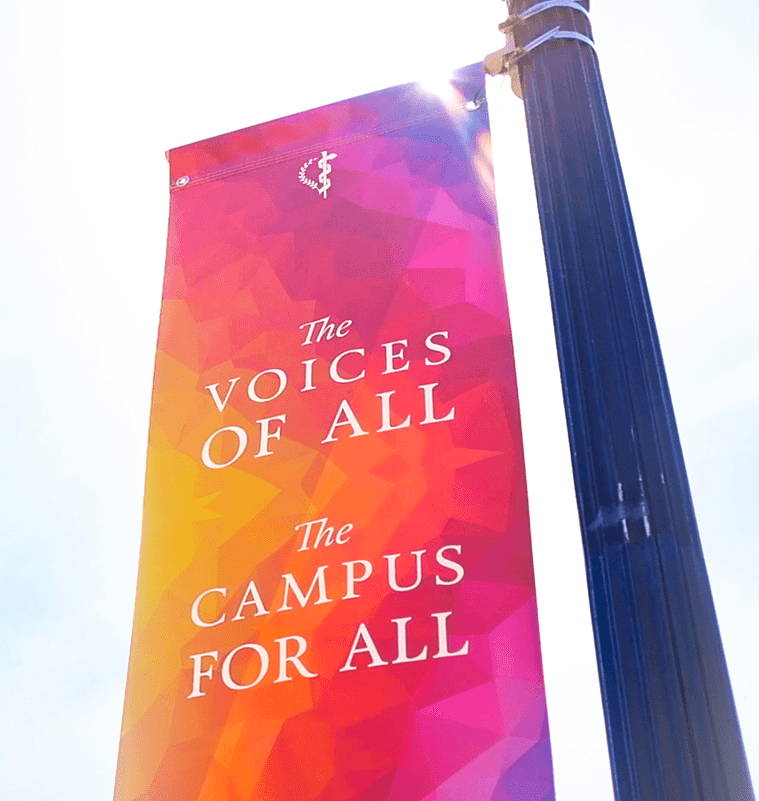 KCU is committed to ensuring a safe and supportive environment for members of the LGBTQIA+ community and providing resources for our entire campus community to grow in allyship.
KCU students are encouraged to reach out to Student Advocates for Equality Education (SAFEE), a KCU student organization. SAFEE seeks to provide meaningful educational opportunities and exposure to LGBTQIA-related issues in medicine for KCU students, staff and faculty. The organization is founded on the principles of diversity, inclusion, education, and awareness. SAFEE serves as a safe space for LGBTQIA students and non-LGBTQIA individuals interested in learning about the queer community and the challenges they face in healthcare. SAFEE's hope is for students to enter their careers with the tools and knowledge to improve the well-being of LGBTQIA patients in the communities they serve.
SAFEE Presidents and Goals
Aaron Small, SAFEE president and first-year med student, KCU-Joplin, was featured on KCU's Facebook page on June 10, 2021. He said:
"As SAFEE club continues to grow and evolve, we have brainstormed many thoughtful initiatives for the upcoming year. One such initiative is creating a committee of LGBTQ+ faculty and students to who incoming and current students can reach out. We feel this will foster a culture of growth and allow faculty and current students to provide guidance to the community at KCU. Additionally, we strive to incorporate Trans and Non-Binary health issues into our Standardized Patient Encounters and have started the process of discussing this addition with the appropriate individuals developing the curriculum. Finally, we would love to see Pride KCU merchandise sold within the on-campus bookstore."
Chloe Lee, SAFEE president and first-year med student, KCU-Kansas City, was featured on KCU's Facebook page on June 5, 2021:
Chloe Lee, first-year KCU-Kansas City med student, will serve as president of Student Advocates for Equality Education (SAFEE). Though separated from classmates by the pandemic, she enjoyed the various speakers SAFEE hosted virtually during the 2020-2021 school year, such as Merrique Jensen who spoke on Supporting Transgender and Gender Expansive/Non-Conforming patients. She also appreciated an email series created by SAFEE for KCU and its future health professionals, providing a greater understanding of the individual letters in, "LGBTQIA."
In the 2021-2022 school year, Chloe hopes that SAFEE may host more in-person activities, like fundraising and community outreach, after a year of much separation.