INTEGRIS Southwest Medical Center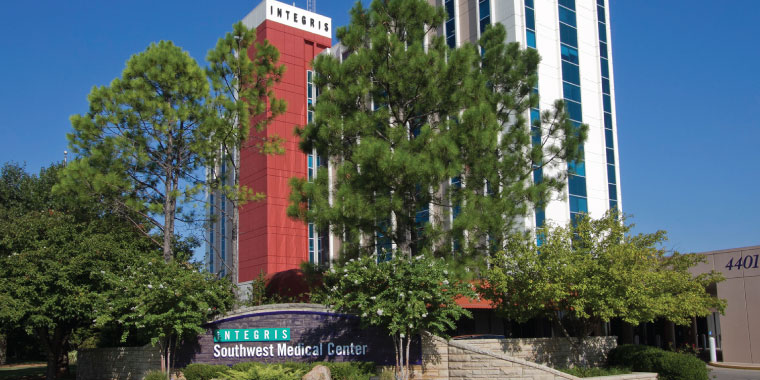 ---
Core Site assignments are for year three only. Clerkship placement during year four is based solely on the site's availability and approval. Students must follow the scheduling protocols outlined by the location and the Clinical Education Guidelines.
INTEGRIS Health, the largest Oklahoma-owned not-for-profit health system in the state, is known for innovation and unparalleled quality offering advanced treatment options and specialties found nowhere else in the region. The $2.3B, 10,000-caregiver integrated delivery system includes hospitals, rehabilitation centers, physician clinics, virtual care, and hospice and home health agencies. INTEGRIS Health operates (through both direct ownership and management contracts/joint ventures) more than 1,800 licensed beds in 17 hospitals. INTEGRIS Health has more than 60 specialties and sub-specialties among its Medical Group and affiliated physicians. INTEGRIS Health Medical Group employs 655 providers and has 185+ primary and specialty care clinics.
Site Focus:
School Affiliations
Oklahoma State University College of Osteopathic Medicine
KCU College of Osteopathic Medicine
Hospital Statistics
Total Beds - 278 staffed; 334 licensed
Admissions - 9,977
ER Visits - 59,910
Births - 927
Inpatient Surgeries - 2,329
Outpatient Surgeries - 3,480
DOs on Staff - 147
MDs on Staff - 389
Third-Year Clerkships
Behavioral Health (1 month) - Inpatient
Child and Adolescent Health (1 month) - Inpatient
Family Medicine (1 month) - Outpatient
Internal Medicine (2 months) - Inpatient/Outpatient
Surgery (2 months) - Inpatient/Outpatient
Women's Health (1 month) - Inpatient
This site schedules clinical experiences in one month increments.
Third-Year Selectives
These are clinical experiences completed in addition to the third-year core clerkships. The student may have some ability to choose from a list of available selective clerkships. The Core Site determines the selective clerkships available based on the resources at the Core Site. If applicable, selective opportunities will be communicated to students at the core site's discretion after the match.

Selective clerkship opportunities are not available away from the Core Site during the third year. Exceptions to this policy may occur for students officially enrolled in the Military and Global Health Tracks or completing third-year selective(s) away from the Core Site as part of the Specialty Track requirements.
Residency Information
Emergency Medicine
Family Medicine
Radiology
Fellowship in Hand Surgery
Resources & Benefits
Facility Resources: Students will have access to computers, internet, lounge, medical library, medical records, phones and printers while on duty at the hospital
Meal Benefits: Meal cards are provided with a $20 daily limit
Visiting Student Housing: Housing unavailable at this time
Duties & Opportunities
Student Duties: Students are required to participate in weekly rounds as assigned
Didactic Opportunities: Students are required to participate in all available opportunities
OMT/OPP Opportunities: Opportunities for skill development in OMT/OPP are provided in the clinical setting during family medicine experiences
Unique Site Characteristics
Background check and drug screen required annually
Global Track or Military Track students must communicate third-year clerkship obligations to site as soon as the Clerkship Match Process is finalized

MMR vaccines (2) or positive titer and varicella vaccines (2) or positive titer required

Orientation provided on the first day at core site
Rotation verification form and confidentiality agreement required
TB screening required annually (only two-step skin test or blood test accepted)
TB Mask Fit offered on-site
Once the Clerkship Site Match is finalized for your class, KCU Clinical Education will notify students when contacting clerkship sites directly is permitted.
Contact Information
Contact Clinical Education
Core Site Contact: Kristie Echols
Medical Director, Education: Mark Keuchel, DO
Clerkship Director: Heidi Metheny, DO
Additions or changes to this site's information may occur at any time - information last updated 2023-09-18