Elizabeth Alex
Senior Director of Public Relations and Community Outreach

Senior Director of Public Relations and Community Outreach, Elizabeth Alex, is apart of the KCU-University Relations team. She was a news anchor for KSHB for 17 years before becoming a community outreach and media relations director at Unbound, an international nonprofit.
Recent Blog Posts By Elizabeth Alex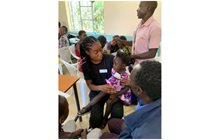 On mission in Kenya: Through the eyes of two students
"I tell them about this newfound love for the country of Kenya. I tell them how incredibly beautiful the country is, how vibrant and deeply rooted, the different cultures and communities are. I tell them how welcome I felt while there, and how beautiful the people were," said KCU-COM student doctor Chisom Okuagu.