Felicia Vaught
Digital and Social Media Program Manager

Digital and Social Media Program Manager, Felicia Vaught, joined the KCU-University Relations team in July of 2022. She comes from Nexstar Broadcasting after being the Digital Media Manager at KSN 16 and KODE 12 news stations in Joplin, Missouri. She has been in broadcast and digital journalism for 13 years, and won the Kansas Association of Broadcasters Station Website Award in 2020. Felicia is a Joplin native and graduated from Missouri Southern State University with a Bachelor of Science Mass Communications degree with the distinction Magna Cum Laude. If you wish to reach out to her, please email her at fvaught@kansascity.edu.
Recent Blog Posts By Felicia Vaught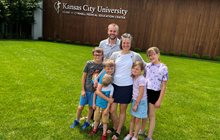 Mother of five takes on medical school
In the 1984 novel, "Other Women," American author Lisa Alther wrote, "Any mother could perform the jobs of several air-traffic controllers with ease." While many moms would agree with Alther's statement, how about juggling the demands of raising five children while attending medical school? One particular Kansas City University (KCU) student is doing just that!