Haley Reardon
Senior Manager of Marketing and Communications

Senior Manager of Marketing and Communications, Haley Reardon, joined KCU's University Relations team in March 2021. She has an extensive background in communications and public relations having held roles in both the healthcare and higher education sectors. Her work has earned numerous gold and silver awards through the American Advertising Federation – Heartland Division. Haley completed her bachelors degree in communications at Missouri State University. In her free time she enjoys a good bargain hunt, riding shotgun with her husband, Keith, and spending time at home.
Recent Blog Posts By Haley Reardon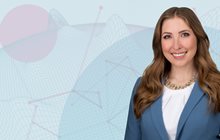 First in Fellowship
Jessica Bass, DO, knew she wanted to become a physician scientist, but she never imagined she would become the first osteopathic physician to secure one of the most prestigious fellowships in the nation.