This April 19th will mark the 25th anniversary since a standoff between federal agents and the followers of David Koresh ended with fire consuming the Branch Davidian compound outside Waco, Texas. Inside, more than 70 men, women, and children would perish.
Dr. Stephen Putthoff, a KCU Pathology professor and a 1978 graduate from KCU's College of Medicine, was called on to help identify the Branch Davidian victims and perform autopsies.
"You have to be able to emotionally detach yourself," Putthoff explained. "If you don't, you're no good to that child or body, or anybody else to acquire justice for them."
Despite the passage of time, Putthoff remembers the days, weeks and months to follow. He often shares his experience with the medical students he teaches today.
First on the Scene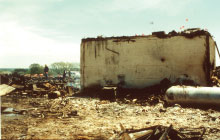 Fire engulfed the compound on April 19, 1993. At that time, Putthoff chaired the Department of Pathology, Anatomy and DNA/Identity at the University of North Texas/TCOM. He also performed autopsies as a Deputy Medical Examiner with the Tarrant County Medical Examiners District (TCMD) just north of Waco. TCMD is a major forensic office which contracts with other counties like McClennen - where Branch Davidian compound is located - to do forensic support and post-mortem examinations. Dr. Nizam Peerwani is the TCMD Chief Medical Examiner and faculty member of TCOM Pathology Department.
"I've done a fair number of multiple fatality cases," Dr. Stephen Putthoff said. "This was certainly beyond what most medical examiners have to deal with."
In a straight-forward matter of fact style, Putthoff recalls being one of the first officials to enter the scene with Peerwani following the fire. Putthoff was no stranger to conducting autopsies. He also had military experience. He joined the army after high school as a Special Forces medic during Vietnam.
Despite his experience, Putthoff would soon face the challenges of what he describes as "a relatively big compound building that had been reduced to ash."
The Challenges inside the Compound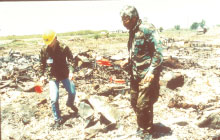 Dr. Putthoff faced plenty of challenges inside the compound. Underneath the smoldering ash remained an arsenal of bullets, grenades, kerosene and propane gas stockpiled by the Branch Davidians. The heat would spark "occasional explosions."
Authorities would spend a week attempting to locate remains of the victims, many of them women and children. Putthoff believes the intense heat from the fire made it impossible to locate everyone.
"The goal with something like that was to identify bodies and try to preserve them for information to determine cause, manner and mechanism of death," Putthoff explained. "That is the task of the medical examiner."
It would take months to identify victims and conduct autopsies. Putthoff said some remains were so severely burned and "comingled together in an agglutinated mass" they were unable to be identified.
Another challenge was the fact that many of the Branch Davidians came from other countries. Putthoff said, "Dental x-rays or other forms of identification including relatives for DNA studies weren't always accessible."
David Koresh
At the center of this enormous investigation remained one pressing question; what happened to David Koresh?
In 1990, Koresh became the controversial leader of the Branch Davidians, building an "Army of God" attracting followers from across the country and the world. They believed in the Apocalypse and stockpiled weapons on the 77 acre compound.
"We found Koresh's body relatively intact," Putthoff recalls.
Dental records were used to identify his remains. The cause of death - a single gunshot wound to the head.
But many wondered if the religious leader took his own life or was killed by someone else.
"We did not render an opinion. We said it was undetermined, either a murder or a suicide," Putthoff said. When asked if he has an opinion, Putthoff added, "I think it's more likely than not that he (Koresh) committed suicide."
Teaching Medical Students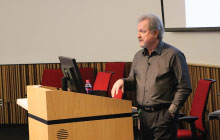 Today, Putthoff passes along his vast experiences to KCU medical students. Read more on this in the upcoming edition of the KCU magazine. A link will be posted here after the magazine's publication.