(Kansas City, Mo. – July 8, 2022) Kansas City University (KCU), has named Bill Patterson as the university's executive director of university relations.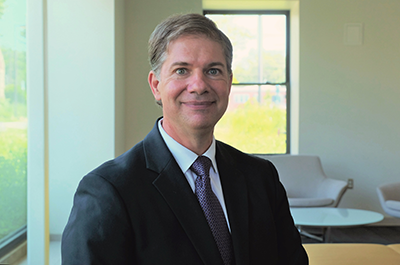 Patterson comes to KCU from VMLY&R where he led a team providing corporate communications, issues management and public relations for local and national brands. Prior to his work there, Patterson served as founder and president of Nation Ranch, a Kansas City area public relations agency and served as vice president of public relations at MMG Worldwide (MMGY Global) of Kansas City.
"Bill brings experience, enthusiasm and vital communication skills to KCU," said Marc B. Hahn, DO, president and CEO of KCU. "He has a deep understanding of KCU's vision to be the most student-focused health science university in the nation, and the importance of telling the KCU story through public relations, events, and innovative strategies that will help share our story. Bill has vast experience in developing and implementing ideas and programs that engage audiences. His leadership will take our university relations efforts to the next level."
As executive director of university relations, Patterson will lead a team tasked with creating and disseminating university messaging, website development, online content, media relations, community outreach, university publications and signature events on campuses in Kansas City and Joplin.
"Kansas City University's mission of improving the well-being of the communities it serves is a noble goal" said Patterson "I look forward to amplifying awareness of that mission and exploring new ways in which KCU can reach and engage students, alumni and the community at large."
Patterson is a native of the Kansas City area. He earned a bachelor of science degree from the college of communication at Boston University and an executive MBA from the Helzberg School of Business at Rockhurst University.
###