KCU-Kansas City Osteopathic Medicine Orientation
Monday, July 11 – Friday, July 22, 2022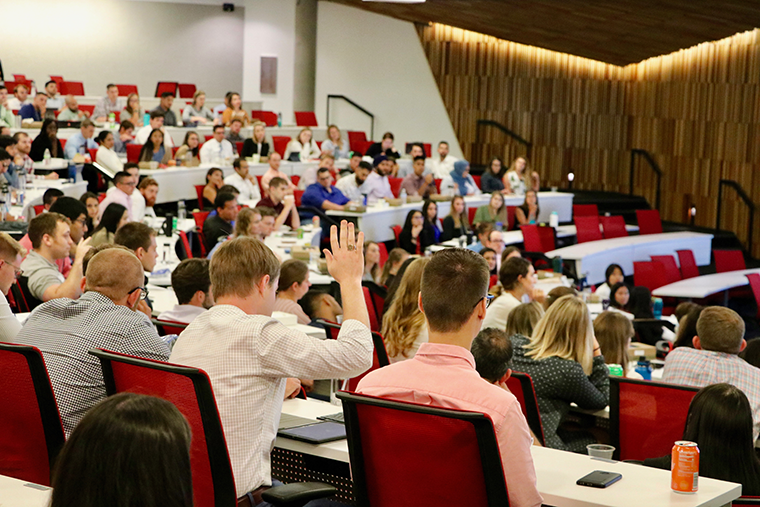 ---
Communications Archive
July 8, 2022
COM 2026 students,
Your orientation to KCU is almost here! Please read below for important details to help you prepare. A copy of the schedule with a few minor updates is available on the KCU website.
Before you join us on Tuesday, we invite you to review this list of suggested restaurants and attractions in the KC area. Some have offered special discounts for KCU students on Sunday, July 10 and Monday, July 11, so make time to visit if you can!
Additionally, please make note of several optional events for which you may RSVP:
HPSP Breakfast: If you plan to participate in the Military Medicine Honors Track, or if you are considering doing so, please join Dr. Ken Stewart for an informational session from 7:00-8:00 a.m. Thursday, July 14. Please complete the RSVP form to express your interest in the program.
Social Event: Join your classmates for food, fun and pickleball from 6:00-9:00 p.m. Tuesday, July 12, at Chicken N Pickle. RSVP here today! Due to limited capacity, this event is open only to KCU COM 2026 students. Heavy hors d'oeuvres will be available on a first-come, first-served basis. Attendees are welcome to make individual purchases from the regular menu on their own tab.
Tuesday, July 12
For your first official day on campus, please arrive promptly for check-in at the time designated below. If you do not arrive by this time, you risk losing your seat in the class.
Last Names A-M: 9:00 a.m.
Last Names N - Z: 1:00 p.m.
Attire
Business casual attire is recommended throughout Orientation unless otherwise specified. Scheduled activities on Tuesday, July 12 will include walking, so please consider comfortable shoes. Your student ID photo will be taken.

What to Bring
Please bring a government-issued photo ID and ensure you have the necessary information to complete your parking pass form. You may also wish to bring a pen and notebook.

Parking and Directions
The Academic Center is located on the west side of campus, between the D'Angelo Library and the Student Activity Center. Student parking is available in Lots A, E, and G, as well as atop the CMEI parking garage. See the parking map for more detail. Please be sure to allow yourself time to park, walk to the building, and pick up your packet prior to your assigned arrival time.
We look forward to seeing you on Tuesday!
Sincerely,
KCU Student Affairs
P.S. Keep an eye out for the COM-2026 Orientation course to be published to Canvas soon!
---
June 23, 2022
Dear KCU-COM Kansas City Class of 2026,
A tentative schedule for Orientation and Med School 101 is now available. Your activities will be a blend of asynchronous content, delivered via the Canvas learning management system, and in-person opportunities to connect with your peers and faculty.
Tuesday, July 12 will be the first time you are expected on campus. If your last name begins with the letters A – M, please join us at 9:00 a.m. in the Academic Center for welcome remarks and activities. If your last name begins with the letters N – Z, please join us at 1:00 p.m. in the Academic Center. Please arrive promptly at your assigned time, or you risk losing your seat in the class. Business casual attire is recommended. Please keep in mind you will be on your feet for much of your time on campus on this particular date.
You may notice that no in-person activities are planned for Monday, July 11. This is intended to provide you with an opportunity to review asynchronous content on Canvas, settle into your new living space, and ensure you are prepared for in-person activities the following day.
To ensure you are able to access Canvas, please complete the onboarding process detailed in your Workday inbox. Once your onboarding is complete, we encourage you to open Canvas and look for the Getting Started with I.T. course. Please complete the Getting Started with I.T. course assignments prior to July 12 unless a different due date is indicated within the assignment itself. You should be able to complete all modules except for "Your KCU iPad." The COM 2026 Orientation course will be available no later than Monday, July 11.
Please look for another e-mail during the week of July 5 with final details and reminders. If you have questions, we encourage you to view Frequently Asked Questions or contact us at stuservices@kansascity.edu.
---
Jan. 25, 2022
Dear KCU-COM Kansas City Class of 2026,
Congratulations on your decision to attend KCU-COM! We are excited to welcome you for Orientation and Med School 101 from Monday, July 11 through Friday, July 22, 2022. Some experiences will occur in person, while others will be offered in a virtual setting. Please ensure you keep your calendar clear of other obligations from 8 a.m. to 6 p.m. each weekday so you are available to participate in all required activities. Further scheduling details will be released in the coming months. Your classes will begin Monday, July 25.
The University continues to examine its safety protocols and monitor the spread of COVID-19 in the surrounding community. We encourage you to settle into your place of residence at least two weeks prior to Orientation so you can be fully engaged in the Orientation process.
Monday, July 11 – Friday, July 22: Orientation & Med School 101
KCU's Office of Student Affairs has designed Orientation to help acclimate you to campus, introduce you to your new classmates and faculty, and prepare you for a well-rounded, successful experience in medical school. Over the course of Orientation, new members of the COM Class of 2026 can expect to:
Develop relationships with new classmates and faculty.
Participate in informational sessions intended to prepare you for your coursework ahead.
Learn about University policies, procedures, and professional conduct expectations.
Give back to the community through WE CARE Community Service activities.
Gain exposure to pre-curricular learning experiences through Med School 101.
Examine your learning style and develop strategies for academic success.
All Orientation and Med School 101 activities are required unless otherwise noted in the detailed schedule, which will be available in the coming months.
Dates for the White Coating ceremonies are available and we expect to provide you with your white coat upon your arrival. You will also receive a T-shirt to wear during WE CARE Community Service Day. With this in mind, please share your white coat and T-shirt size with us if you have not done so already at your earliest convenience. Note the sizing information available within the form.
Sincerely,
KCU Student Affairs