(Kansas City, Mo. – January 12, 2021) Kansas City University executive dean for the College of Osteopathic Medicine (COM) and vice president for health affairs, Darrin D'Agostino, DO, MBA, MPH, will become the next provost and chief academic officer for Texas Tech University Health Sciences Center (TTUHSC). D'Agostino will assume his new role this spring.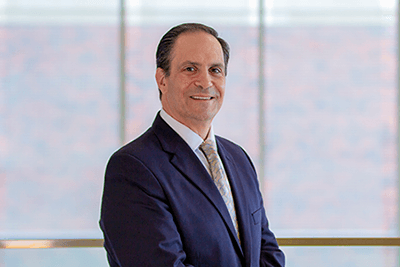 D'Agostino joined KCU in March 2017, just months before KCU opened its second campus in Joplin, Mo. Since then he has presided over progressive initiatives and advancements for the University. In fall 2017, the KCU Farber-McIntire campus in Joplin welcomed its inaugural class that will graduate this May. In 2019, under D'Agostino's leadership, the Commission on Osteopathic College Accreditation (COCA) awarded KCU a ten-year Exceptional Outcome accreditation status; and in March 2020, the University completed construction of a world-class Center for Medical Education Innovation (CMEI) that will be a foundation for new curricular efforts in the medical school.
"This opportunity with Texas Tech University Health Science Center would not have been possible for me without the mentorship and coaching from our president, Marc Hahn, our provost, Ed O'Connor, and so many generous KCU champions," D'Agostino said. "I am grateful for all of the wonderful and challenging experiences and growth we have had as a team and university!"
"Darrin's passion for teaching and his wisdom, innovative thinking and direction have led us toward our vision to become one of the most student-focused health sciences universities in the nation," said Marc B. Hahn, DO, president and CEO of KCU. "His leadership in the fields of medical education and population health have advanced the University's mission of 'improving the well-being of the communities we serve.'
"Darrin's outstanding leadership during the pandemic has played an integral role in maintaining a rate of positivity for COVID-19 that is lower than most university campuses while at the same time assuring quality education for our students, maintaining our accreditation status and graduating our students on time," Hahn said.
TTUHSC is a part of the Texas Tech University System and operates five schools and satellite campuses including a college of medicine. Its flagship campus is in Lubbock, Texas.
TTUHSC President Lori Rice-Spearman, PhD, said D'Agostino will bring experiences from KCU as well as his consistent record of significant relevant accomplishments from multiple organizations during his career.
"I'm excited to have Dr. D'Agostino join the university leadership team," Rice-Spearman said. "TTUHSC has much to offer our faculty and students and Dr. D'Agostino will fill a pivotal role in our future academic endeavors."
"In my new role, I will be helping the university advance the process of inter-professional education through linking the robust resources at TTUHSC with a focus on the positive impact it will have enhancing health-care delivery in west Texas and medically underserved regions of the United States," said D'Agostino.
KCU will begin a national search for a new executive dean in the coming weeks.
About KCU
Kansas City University, founded in 1916, is a fully accredited, private not-for-profit health sciences university, with a College of Biosciences and a College of Osteopathic Medicine. The College of Osteopathic Medicine is the eighth largest medical school in the nation, the tenth most affordable of private medical colleges, and the leading producer of physicians for the State of Missouri. The College of Osteopathic Medicine has two campuses strategically located in Kansas City and Joplin, Mo. to address the growing needs of rural and urban populations. The University offers multiple graduate degrees in addition to doctor of osteopathic medicine, including a doctoral program in clinical psychology, a master of arts in bioethics and a master of science in biomedical sciences. Groundbreaking for a College of Dental Medicine in Joplin, Mo. is slated to take place in 2021.
###
Media Contact
Elizabeth Alex, Public Affairs Director, (816) 654-7032, ealex@KansasCity.edu